The Parliament of the Republic of Armenia voted on the candidacy of the President of the country. Deputies of the National Assembly of Armenia elected Armen Sargsyan, the representative of the ruling Republican party, with a majority of votes (90 "for" and 10 "against", 1 bulletin was invalid).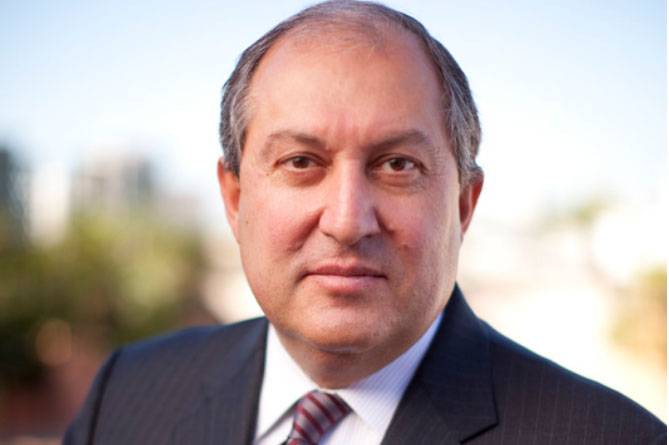 Armen Sargsyan replaced Serzh Sargsyan at the presidency, who has been at the head of state since April 2008. Earlier, Sargsyan personally presented Sargsyan as his successor, in effect providing him with the support of representatives of the majority of the parliamentary corps. Serzh Sargsyan himself had no right to be elected for a third term under the country's constitution.
It should be noted that for the first time Armenia
stories
holds presidential elections not in the course of a popular vote, but within the parliament. Now (under the new legislation), the President of Armenia is elected for seven years and is not eligible for re-election.
It is noteworthy that Armen Sargsyan was the only candidate for the presidency. In fact, the term "head of state" itself in Armenia now changes its meaning, assuming that the president is now only a formal head. The fact is that Armenia switched to the format of a parliamentary republic and de jure the status of the president is lower than that of the head of government.
In 1976, Sargsyan graduated from the Physics Department of Yerevan State University, he is a candidate of physical and mathematical sciences. He worked at YSU, Moscow State University, as well as at universities in Germany, Greece, USA, Britain. In 90, he occupied the post of Ambassador of Armenia to the UK, then in the Benelux countries and the Vatican. In 1996-1997, he served as Prime Minister of Armenia.
He worked as an advisor in such companies as Alcatel, Telefonica, British Petrolium, and others. He has state and foreign awards (including the Vatican's Great Cross award of the Order of St. Gregory the Great).