Russian Defense Ministry launched on its website
multimedia
a section with archival documents devoted to the feat of the gunner-gunner of the 2-th separate rifle battalion of the 91-th separate Stalin rifle-brigade of the Siberian volunteer Hero of the Soviet Union Red Army soldier Alexander Matrosov.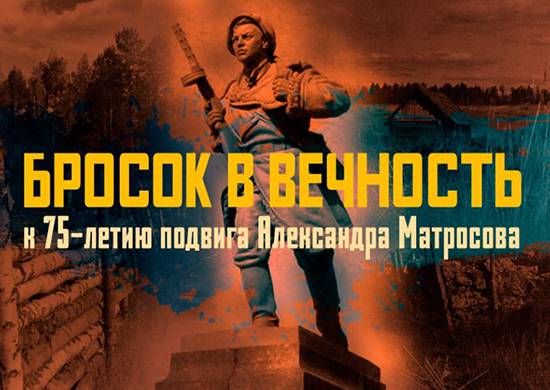 In the last days of February, the Red Army soldier 1943 accomplished the feat that
stories
The Great Patriotic War received a proper name - "the feat of Alexander Matrosov". The section presents materials from the funds of the Central Archive of the Ministry of Defense of the Russian Federation - authentic evidence of his exploit,
says the release of the military department.
The section contains a report to the deputy head of the Chief Political Department of the Red Army, dated December 1944 of the year, which contains a detailed report on the work on establishing the exact burial place of Alexander Matrosov with a description of the state of the grave and proposed measures to perpetuate his memory.
In addition, it tells about other heroes who repeated the feat of Matrosov.
"Employees of the archive bit by bit collected information about 500 heroes from numerous disparate documents from the period of the Great Patriotic War of 1941-1945. This information is compiled into a collection and will be published soon, "the report says.