On the
Online
Hungarian Foreign Ministry published statements by the head of the Hungarian Foreign Ministry, Peter Siyarto. The Hungarian minister said that in Ukraine began a brutal attack on the representation of national minorities. This is a repeated arson of the office of the Union of Hungarians Ukraine in Uzhgorod.
From Peter Siyarto's statement:
The Ukrainian government has set itself two nationalist goals: one is to prevent minorities from learning their native language, and the other is to prevent them from even speaking their own language.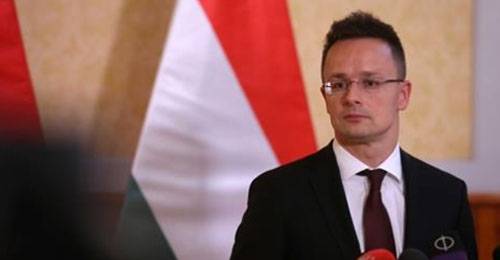 Siyarto noted that now no one should have any doubt that the laws adopted by the Ukrainian authorities have nothing in common with the values ​​of Europe and only provoke radical nationalists to violent attacks against representatives of national minorities.
Hungarian Foreign Minister:
While Ukraine expects European countries to demonstrate solidarity, it itself strikes in the back with its measures against national minorities.
Siyarto commented on the recognition in Ukraine of an unconstitutional language act. According to Siyarto, the Ukrainian parliament is now considering three new legislative acts on linguistic status.
Siyarto:
These acts are even worse than those abolished by the Constitutional Court. Until now, the limit for using the term "national minority" was 10% of the population, but now the limit will be 33%.
The Hungarian Foreign Ministry once again stressed that Budapest will continue to block Ukrainian steps towards the EU.