US State Department spokesman Heather Nauert during the briefings continues the policy of his predecessors (predecessors), trying to declare that he intends to ignore the questions of Russian journalists. During the briefing, the correspondent of the Russia 1 TV channel asked Ms. Nauert if the US administration intends to continue to cooperate with Moscow in the field of nuclear security after the message from the President of the Russian Federation.
Nuerth:
The question is, will we stop these negotiations? Of course, this worries when the video shows how Russia is attacking the United States. I do not think this is constructive.
A spokeswoman for the Russian Channel One, who was present at the briefing, made a remark that there were no shots in the commercials presented the previous day at the Manezh for which it would be possible to say that the "blow" was delivered precisely to the United States.
To this, Nuert replied:
And you, too, from Russia? Then everything is clear. Next question.
Surprisingly, even representatives of the CNN television channel stood up for Russian journalists, responding that Nauert should not have ignored such questions, since "they are asked by Russian journalists, and not by Russian officials."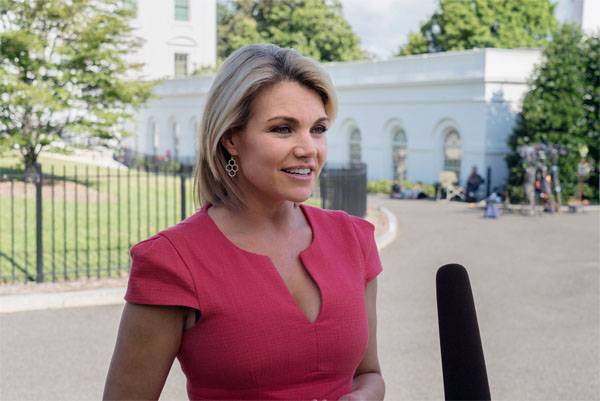 To this, Heather Nauert tried to say that the RT channel (although the question was not asked by the RT correspondents) is not separated from the Russian authorities, since it is funded by the Russian government. After that, a real verbal skirmish began in the hall, to which well-known American journalist (representative of the Associated Press) Matt Lee joined. He noted that he was reviewing the cadres presented by Vladimir Putin, but he still didn't understand why the State Department decided that the new Russian
weapon
"Attacks" the United States.
Naert said that Lee watched the video "inattentively", unlike the representatives of the State Department.
As a result, the briefing Nauert became the most scandalous from the moment of its appearance behind the podium of the speaker of the American foreign policy department.