The American company Kaman Aerospace has announced its intention to develop improved versions of unmanned and manned synchropters of the K-Max family, the world's only serial aircraft of this class. According to Flightglobal, the decision to upgrade the helicopter was made after the successful delivery of the first machine, released as part of the resumed production.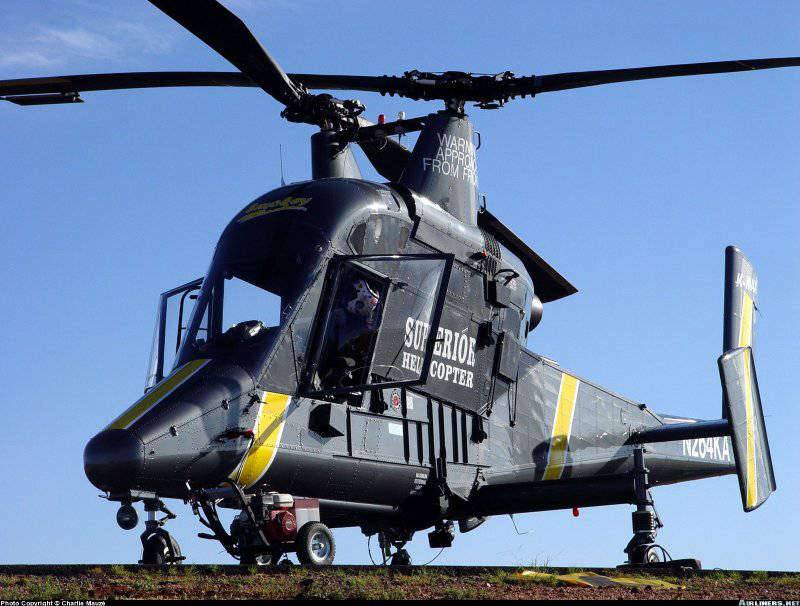 A distinctive feature of K-Max synchropters is the transverse arrangement of two rotors, the planes of rotation of which are angled to each other and intersect. The rotation of the screws is synchronized and produced in opposite directions. It is believed that such a scheme greatly simplifies the control of the helicopter in hover mode or at low speed.
K-Max with a length of 15,8 and a height of 4,14 meter is equipped with screws with a diameter of 14,7 each. The maximum take-off weight of the device is 5,4 tons. Synchropper can reach speeds of up to 185 kilometers per hour and fly over distances up to 500 kilometers.
Kaman Aerospace resumed production of K-Max synchrosters, which ceased in 2003, in June, 2015, and in July, 2017, delivered the first such helicopter to the customer. The company is currently engaged in assembling the first batch of ten synchroters.
These machines, developed in the second half of the 1980-ies, are equipped with obsolete avionics and refurbished Honeywell T53 turboshaft engines. The latter were created in the middle of 1950's.
Kaman Aerospace said that the upgraded version of the K-Max will receive a new more powerful turboshaft engine, as well as a new on-board electronics. In addition, the synchroopter case and its rotors will be subjected to some modifications.
Today in the world fly around 40 K-Max synchros. Most of them belong to the United States Marine Corps. The helicopters were also delivered to the ground forces of Colombia and civilian companies in Germany, New Zealand, Peru and Switzerland, reports the scientific portal "N + 1"