Representatives of the North
fleet
and military schools will go on an expedition in March by motorized towing to the North Pole, reports
TASS
.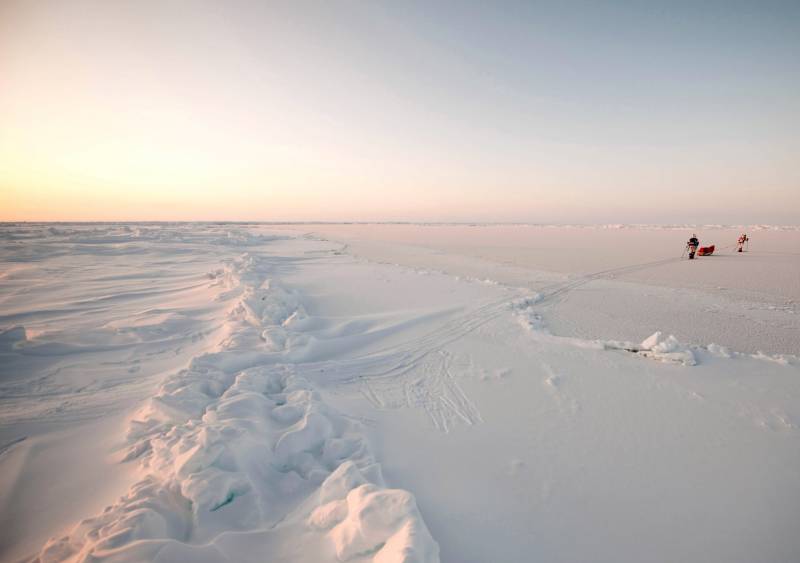 The hike will be led by traveler Victor Simonov.
The start of the expedition from the archipelago Severnaya Zemlya (Arctic Cape) is planned for March 13-14. The route of the expedition is about 1,3 thousands of miles. It will end at the geographical point of the North Pole. Soldiers of the Northern Fleet, specialists from the Ryazan School of the Airborne Forces, the Military Institute of Physical Culture,
told the head of the expeditionary center of the Ministry of Defense Yevgeny Binyukov.
In total, five people will go to the North Pole. According to Binyukov, the main tasks of the expedition are "training specialists for the Arctic units, as well as continuing research work on studying the characteristics of the functioning of the human body in low temperatures and physical training of the military in the Arctic."
In addition, a series of experiments will be conducted on the use of unmanned aerial vehicles.
It is very possible that we will have to continuously work on the 24-26 hours, we will carry our motorcycle towers, fuel, bags with equipment and food for as long as necessary. The members of the expedition are not ordinary soldiers, for them it will not be very difficult. But from a psychological point of view, taking into account the continuing frosts - it will be hard. Now the temperature there is about minus 50 degrees (Celsius),
said the leader of the expedition Simonov.
The agency recalls that in 2013, Viktor Simonov, together with Fyodor Konyukhov, sled the dog from the North Pole to the coast of Canada.