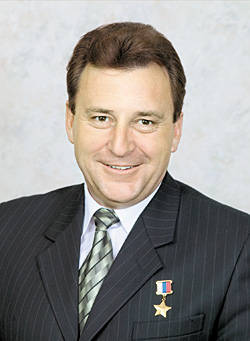 A unique person died - Honored Test Pilot, Hero of Russia Colonel Sergey Melnikov
A unique person passed away - Honored Test Pilot, Hero of Russia Colonel Sergey Melnikov, one of those amazing pilots who took to the sky, taught to land and take off from the deck of the aircraft carrier Admiral
fleet
Soviet Union Kuznetsov "a multi-functional ship-based fighter Su-27K, which everyone today knows under the Su-33 index. And Sergey Melnikov taught to fly one and a half dozen other Sukhoi military vehicles, where he worked for the last twenty-three years. Among them are Su-17, Su-24, Su-25, Su-30, Su-34 and Su-35.
You can talk endlessly about his talent, as well as about the extraordinary ability to feel the plane, trust him, about his ability to squeeze out of the winged car what the designers, who seemed to have invested all their mind and soul in their offspring, could not even imagine. Until now, word of mouth among the test pilots passed completely truthful
stories
, as Sergey Melnikov planted an aircraft in the Atlantic during a storm with 6 points on "Kuznetsov", how he managed to keep the "drying" at night on the deck of an aircraft carrier, slowing down at the last, fourth aviation finisher, because the first three were torn. And how he won the air battles over the Mediterranean from American and Israeli pilots. And about how he managed to overtake an emergency fighter, from which kerosene flowed from a damaged fuel tank from a ship standing at the pier (and according to the rules, it is possible to take off from it only at sea, while driving) to the factory airfield. As a pilot, the 279 th pilots of the Northern Fleet Separate Naval Fighter Aviation Regiment were taught to master the Su-33, which entered service with the fleet twelve years ago and the first in the history of relations between Russia and NATO spent in the air refueling of the Su-30MKM and Su-30MK2 Russian fighters in the air. American tanker KS-130 "Hercules" ...
Sergey Melnikov recently taught not only Russian pilots to fly, but also pilots from Algeria, Malaysia, and Indonesia. All those countries to which Sukhoi machines are delivered. He spent 2900 hours in the air, of which 2000 was on a test flight. He was a little over fifty.
All who knew this amazing man and amazing pilot, will keep about him the brightest memory.