Russian Defense Minister Sergei Shoigu through diplomatic channels sent UN Special Envoy for Syria Staffan de Mistura an explanation of the initiatives of the Russian Federation on Eastern Gut and Rakke, reports
RIA News
.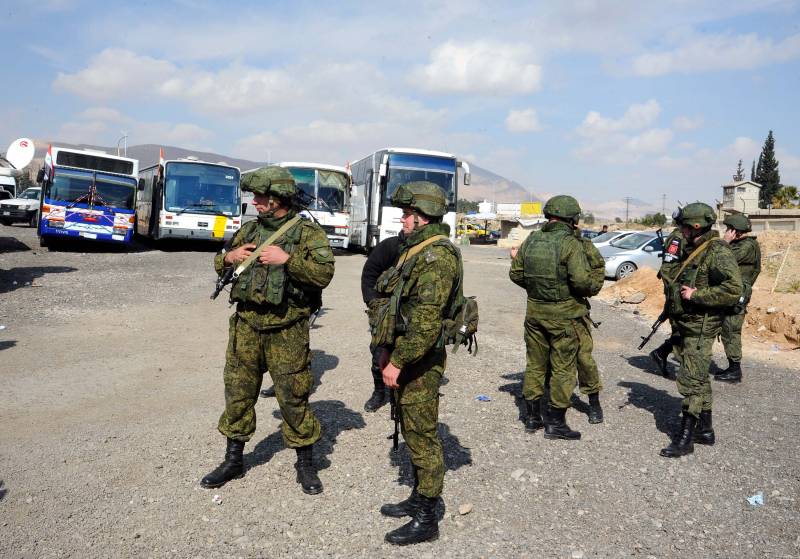 Russian military police in the suburbs of Damascus.
On Monday, de Mistura stated that he wanted to learn more about the proposals of the Russian side on various Syrian topics.
Defense Minister General of the Army Sergei Shoigu, through diplomatic channels, sent an explanation to Special Representative of the UN Secretary General for Syria, Staffan de Mistura, on a package of activities conducted on the instructions of the Russian President by the Russian Center for Reconciliation of the Warring Parties
says the release of the Ministry of Defense.
The clarification states that "on the instructions of Russian President Vladimir Putin, the Center for reconciliation of the warring parties, together with the Syrian authorities, is launching an operation to evacuate the civilian population, as well as the sick and wounded, from the Eastern Guta."
To this end, Shoigu notes, "from February 27, daily" humanitarian pauses "are introduced from 9 to 14 hours in areas of the Duma and Arbil (Arbin) settlements". At this time, the Syrian troops stop striking terrorists.
For the admission of civilians with the assistance of the Syrian Red Crescent Society "a humanitarian corridor has been prepared in the area of ​​Muhayyam al-Wafedin". In addition, for residents, "leaflets are distributed indicating the routes of exit from the enclave and the order of crossing the checkpoints of government troops." Also, an alert is carried out using loudspeakers and sending SMS messages.
The document emphasizes that "it is simultaneously proposed to open humanitarian corridors from Al-Tanf and Rukban, as well as to create an international commission to assess the humanitarian situation in Raqqah."