... or how Russia can combine its defense priorities with the strategic interests of its geopolitical allies and partners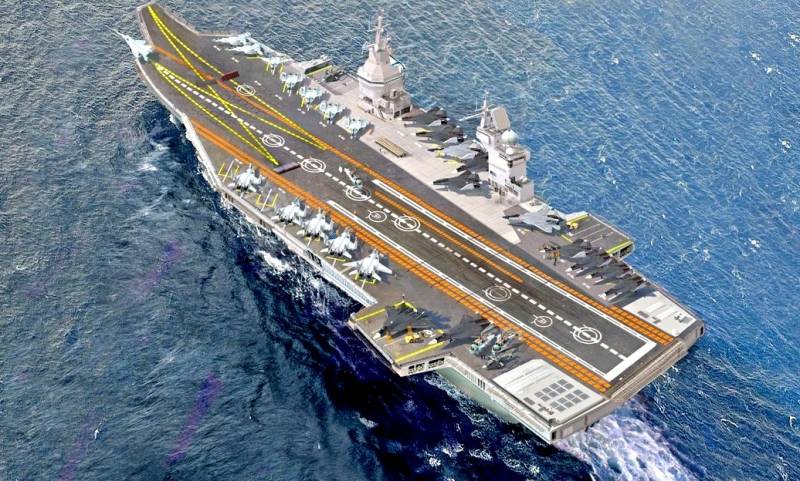 The aircraft carrier theme has not given rest to domestic military-patriotic thought for a good hundred years. Since the appearance of the first aircraft carriers in the world, we have always been very squeezed by the fact that the adversary has them, but we do not. I strongly suspect that this was the main "military-strategic" consideration, which was always the basis of our carrier-based ambitions. The last squeak of discussion of this evergreen theme was the quite fantastic concept of an "underwater nuclear aircraft carrier", which would sneak up on the enemy (read - American) shore and unload its attack drone vehicles from the enemy. True, it is not very clear why all this phantasmagoria is needed if there are no less secretive nuclear submarines in the Russian Navy that carry ballistic missiles with a launch range of up to 10 thousands of kilometers.
It is quite obvious that the main approach to the aircraft carrier theme should not be abstract great-power ambitions, but a clear understanding of the feasibility of developing such a class of ships, along with all their rather big dowry, in terms of the country's geopolitical position and fundamental priorities of its military security.
And in this sense, we have to admit that the need for aircraft carrier
navy
for such a continental, or rather even an intercontinental power, like Russia, which for centuries has reflected mainly enemy land invasions, is far from obvious. In any case, it is not so indisputable, as, for example, in the case of America separated from the rest of the world by oceans, or island Japan at all. Russia, unlike Japan itself, can, if necessary, survive without sea communications. The Japanese cannot. That is why the fleet for them, as they say, is not a luxury, but a means of survival of the nation.
That is why, in our Fatherland, dreamy impulses of bold mind and daring engineering ideas regarding the conquest of the distant seas, always came into natural conflict with the system of military-political priorities of the state and rationally understood fiscal policy. Within the framework of which aircraft carriers in Russia have never been the subject of the first or even second necessity.
Hence, the current endless discussions, which for decades have tended not to take the form of any government decisions. In my memory, Dmitry Medvedev, when he was president of Russia, quite definitely spoke in favor of building aircraft carriers. And the commander of the Russian Navy of that time, Admiral Vladimir Vysotsky, completely swung at six carrier strike connections!
Since then, another ten years have passed. But today, this topic remains, in the main, the subject of bold predictions for the distant future, or even completely, of utopian fantasies in the style of an "underwater aircraft carrier".
The reason for this is twofold. Firstly, the obvious non-priority of the fleet of the far sea zone for a huge land power, which does not depend on an existential scale on ocean communications. Secondly, statesmen always have a more rational way to spend large, or even very large, money of the Russian treasury. For example, at the cost of one AUG (and this, even in a poor way, no less than 10 billion dollars) you can build a dozen nuclear-powered submarine missile carriers of the newest modification and, thus, completely close the topic of guarantees of nuclear security of Russia - an early strike on the aggressor. About how much the most modern
weapons
you can buy for the land with this money, how many new divisions can be deployed in potentially dangerous areas, I don't say so. And of course, nobody will sacrifice all this to carrier ambitions.
But does this mean that the topic of aircraft carriers is, in principle, unpromising for Russia? I would not hurry with this conclusion. If we proceed from the fact that the current Russian Federation is a normal, modern country with a dynamic economy interested in conquering and maintaining world markets, then the need for a military component adequate to these ambitions becomes not so doubtful. Moreover, these markets and the system of international military-political alliances ensuring their security may be located at a considerable distance from the territory of the Russian Federation itself and require the projection of precisely naval force. Which without air support, provided, in particular, by aircraft carriers, is unlikely to be possible.
The option of a fundamental refusal by Russia to fight for the external markets for its goods and to go to deaf self-isolation can not even be considered, if we consider the Russian Federation a promising country. And the fact that the struggle for such markets will constantly run up against the fiercest opposition from other centers of power - no need to go to the fortuneteller.
Examples before eyes. As soon as Russia took active steps in the Middle East to consolidate its geopolitical and, as a result, economic influence there, it almost did not reach the third world war. So the traditional owners of these markets perceive and will take any attempt on their life.
So, in the long term, Russia will not be able to manage without long-range power arguments, including such operatively flexible ones as amphibious and carrier groups.
But again - how to combine this "superfluous superfluous" with the paramount domestic security priorities? And most importantly, where can you get money for such ambitious and extremely expensive projects, when they are not enough even for the most urgent needs of the country's defense? What the recent shifts to the right of the implementation dates of many, including very significant military programs, testify to.
And what if they do not combine at all? And not to experience a gap in the domestic economy and defense priorities?
How can I do that? That's how! For a start, it is worth considering what the carrier fleet is in principle. This is undoubtedly a method of projecting forces on the sea and oceanic theaters remote from Russia. That is, in other words, to those coastal countries and territories in which Russia is strategically interested. And which, I will write it in large letters for greater clarity - IN THE SAME MEASURE, OR EVEN IN MORE, STRATEGICALLY INTERESTED IN RUSSIA! Without chewing the topic into mush, I will clarify - even if only for my elementary defense against US aggression.
But gentlemen, let me remind you that interest is essentially the same demand for goods. In this case - on military strategic services. Which, by the way, are the most expensive. And, therefore, potential military-political clients of Russia, like any normal buyer, must pay for these services. And here a practical question arises - why should the participants of such a strategic partnership not resort in this case to an advance settlement system and to translate this mutual interest into concrete programs of advanced cooperation, including military technical?
I would say even simpler - why would these powers interested in the existence of an alternative American global projection of naval force not throw off, who and how much can for the construction of the Russian aircraft carrier fleet?
Do not rush to point fingers at me, as if you were an idiot. This does not mean at all that the Russian aircraft carriers built in such a way will be thrown around the world in the manner of the fire brigade on the first whistle of the "concession participants" concerned by some kind of nonsense. Such a vision is primitive and stupid.
The existence of an alternative military center and, in particular, naval power, comparable to the United States, will in itself completely reformat the world geopolitical situation and create for many, if not for most countries of the world, new opportunities for independent development. About which they, in the conditions of American global hegemony, do not even dare to dream.
Russia is already doing a lot by itself so that such a center on this planet will again take place. So why would those powers, small and medium, which are vitally interested in such a global geopolitical shift, but who themselves never build an aircraft carrier in their lives, do not support Russia in this socially useful endeavor? Iran, Iraq, Syria, Libya, Venezuela, Cuba, the Philippines - and this is only the beginning of the list. Not to mention our blood allies in the CIS and the CSTO, with whom, if my memory serves me, we are jointly dragging our common potential military security.
Such a solution to this financial and strategic problem seems acceptable from the point of view of the optimal combination of the fundamental interests of ensuring the security of Russia and its geopolitical partners. Which must clearly understand the defense priorities of the Russian Federation itself and partially compensate for its efforts in those areas which for Moscow have no existential significance, but are the highest priority for themselves. The future Russian carrier fleet may just be on the edge of this common strategic will.