The US Navy intends to equip the fleet of Super Hornet and Growler with larger capacity fuel tanks, which will increase the range of the wing.
Explaining the equipment of the F / A-18 Hornet fighter jets and the EA-18 Growler electronic warfare aircraft of the US Navy with fuel tanks, expert Eric Wertheim said that this was necessary because of the threat from Russia.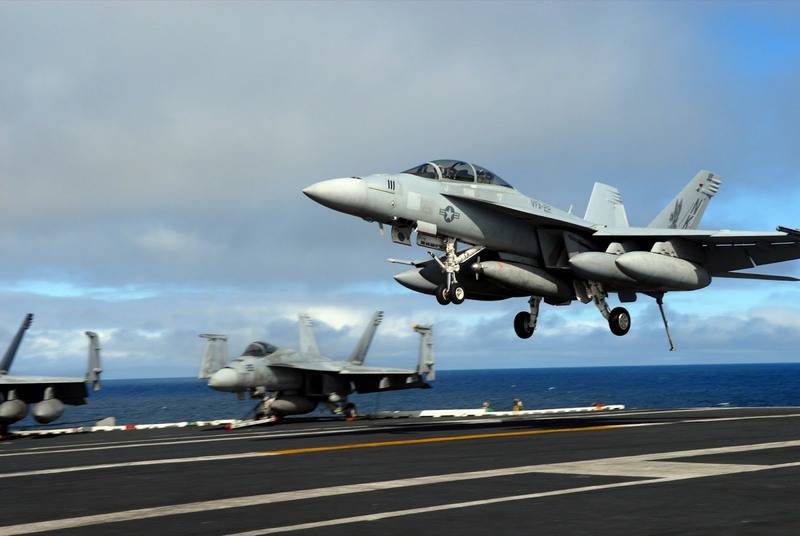 Wertheim, who is an expert on naval issues
aviation
, stated that for a long time the US Navy did not face threats comparable to those that appeared during the Cold War. However, in the last 5–10 years, threats have begun to emerge in the form of "new deadly Chinese and Russian weapons systems," NavyTimes quoted him as saying.
We were so focused on the wars in Iraq and Afghanistan that we forgot about the serious problems
- declared Wertheim.
Experts directly associate plans to increase the range of American fighter aircraft with reports of a significant increase in the range of Russian anti-ship missiles. In such conditions, for successful interception of Russian missile-carrying planes, American fighters need to increase the range to at least 1,1 thousand. At the moment, the range of the F-18 is about 700 km.
In the middle of February, the Pentagon stated that the United States was alarmed at the development of new cruise missiles in Russia, which allegedly were capable of hitting targets for much greater distances than before.
Before this, there was information that the Russian anti-ship missile 3М55 of the Onyx complex can reach the launch range in 800 km, and possibly 1 thousand km, reports Vzglyad