The Berd Brigade of the GRU special forces disbanded ... There was a memory ...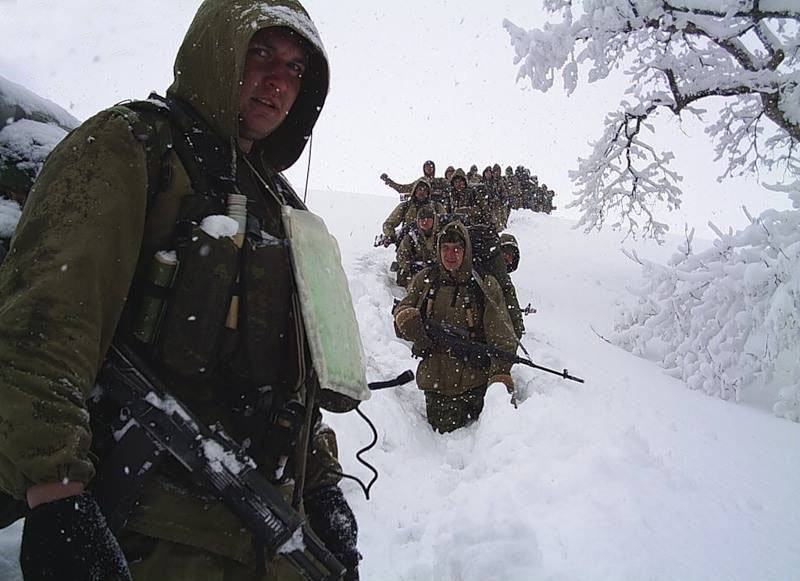 About the fact that the Berd special forces brigade disbanded in the course of military reform, the rumors went not so long ago. And suddenly -
news
: Berd special forces says goodbye to the banner! Berdchane and residents of the nearby regions are the backbone of the Berdsky Special Forces, many did not even believe it ... How is it that why one of the most combat-ready military units of the Russian army disappears before our eyes, and even in such a hurry? I called friends to my fellow soldiers to find out the details of the real situation in the brigade, I make an appointment.
We sit in the kitchen - on the table vodka, cucumbers, sausage. Palycha's wife left 'from sin', and we are alone in the apartment. Opposite me - the special forces major Petrov, the owner, we call him Palych, and at the side - lieutenant colonel of the special forces Repin, simply Yurich (the names, names and titles of the interlocutors are changed, hereinafter - notes of the author). We have long been acquainted: with Palych, we were in the same war, and even participated in one operation together. But Yurich didn't have time for us to go to the 'Afghan', but he went through 'two' Chechen 'wars' from' and 'to'. The reason for the meeting is sad:
- Well - is it really all? - I ask.
The officers are silent, and I do not look them in the eyes - I can not force myself.
- Give for us, - says Palych, and we drink.
Yurich waves his hand:
- Everything, December 1 brigade will not. Yes, it is no longer in fact.
Both officers are externally pulled up, assembled, crepes are typical special forces, but the realization that their native Berd special forces commandos no longer exist simply kills them morally. And it can be seen too well.
- And instead of you - who will be here? - I ask.
- The rear part of some. Spetsnaz was removed, the rear men were installed - the army's combat capability jumped to the skies ... - Repin replies bitterly.
- So, what is next? - I continue, - What will they do with you now? It is said that some will be transferred to Transbaikalia, to the same brigade.
- Well, I will not give out military secrets, - began Palych. - I will say this: let's take it conditionally that now there are as many officers in the Berd brigade 100, and in Irkutsk. According to the plans of military reformers, zero officers should remain in the Berd brigade, and in Irkutsk - 80. So count - how much will "translate". And so - go round as you like, look for yourself a place yourself, go to the infantry, to the tankers, go to the internal troops. Ensigns are generally destroyed 'under the root' - as a class.
- Yeah ..., - I shake my head. - Things and ...
- Yeah, zashibis affairs, our management is generally removed, - connects Yurich.
- I heard, I don't believe something - how can the GRU (Main Intelligence Directorate of the Russian Army) be removed altogether? - I utter incredulously. - They that there, in general from an oak fell? In August, a 2008 special forces group of three thousand Georgian brigades broke up in Senaki. Airborne scouts fly up to their base at BMDeshki, and there our "specialists" already eat shashlik - still hot! - the valiant Georgian rangers threw together with military equipment, and gave the battle. GRU is strategic
weapon
, GRU and the Strategic Missile Forces make Russia a world power!
- Power ... Now everything is transferred to money. Crisis, loot save, without GRU, such savings will trample! Korabelnikov (head of the GRU) began to resent, and where is he now?
"They took it," I say.
- Right. Commander of the Airborne Forces Evtukhovich - where? There, retired. Who begins to be outraged - all removed, dismissed.
In the Berd brigade, there are six Heroes of Russia - this is Lieutenant Colonel Repin. "We are the best part of the GRU special forces, and we are under the knife?" Yes, the first? Forgotten, as on special forces, two Chechen wars were dragged out, and on the Afghan war — who gave the result with small losses? Infantry, or what?
- In Bamut, the fortified infantry stormed - how many boys in stupid attacks lay down! - Jurich blinks and shakes his head, pouring vodka. - Then a detachment of 'Pskovs' approached (the Pskov brigade of GRU special forces) asked for the situation. Infantry Commander:
- Why, we sat down in the rocket mines - we can not smoke in any way.
- Wait, we are trained to act in rocket mines, - says 'spec'. We conducted reconnaissance, got inside through the ventilation ducts, from the inside of all the 'bearded' from silent weapons killed - and not a single loss.
- And Hitler - what, was so stupid that he climbed on us? - Palych goes farther into the past. "I knew that Stalin had killed so many commanders that they put captains in the division." Therefore, he climbed and arranged for us the summer of the 41st year. And pearls to Stalingrad, while new cadres with us did not grow in the war. How to gain experience and skill, then we flooded them. What, on the Kursk, we had the advantage in the forces? Yes, there was no serious advantage, even the lag was strong by
tanks
. They have 'Tigers', 'Ferdinandas', 'Panthers'. We have 'thirty-fours' with short-barreled 76-mm guns that did not take their armor.
- You do not touch Stalin, - grumbles Yurich. - We don't touch kings at all. They are ... these, as their ...
"The anointed ones," I suggest.
- In-in, untouchables.
Where did Chechnya come from? - continues Petrov. "They knew that there was no army in fact — Yeltsin, like the Soviet Union, destroyed it. They became impudent, and began to cut the Russians like pigs, with their whole families, to seize apartments and property, to keep Russian slaves, to trade slaves. Our realized - what to do? Come on, army, go ahead! And the generals refuse one by one: they know that there is no one to fight - experienced cadres have long been in the "citizen". Sparrows, Gromov refused. One took that from the biennial, from civilian high school. Well, the "eagles" in the ironed "chromachih" from the "Arbat military district" have suffered, which soldier's blood is like water:
- Come on, go ahead!
And now everyone knows these three words: the New Year assault on Grozny ...
The officers fell silent. The memories of those New Year days were too heavy. The Berd brigade was thrown (as well as other special forces) to perform tasks that were not typical for them: storming buildings, hauling out wounded, helping infantry units, which included only poorly trained schoolchildren yesterday, and not untrained lieutenants, many without military education. When the militants squeezed at the Grozny railway station, a consolidated detachment of two infantry units - the Maikop brigade and the 81 regiment - a group of Berd special forces threw them to the rescue. To at least save the Maikop commander. Special Forces Igor Leluh and Dmitry Yerofeyev were torn through several blocks of solid fire, and they died just before the station. They were posthumously Heroes of Russia.
We remember the special forces heroes: those whom the whole country knows, and those whom two dozen people know. We remember the victories in large and small wars. We recall how a company of Berdsky special forces fought for one and a half days against the 600 militants who advanced to Gudermes in order to capture the city: on 8 our fighters who died were killed near 150 of enemy corpses. We have no terminological balancing act in honor, we do not speak in bird language: "rendering international assistance to the brotherly people", "counter-terrorist operation", "disarming illegal armed groups", "peace enforcement". We say easier - war. For Petrov and Repin, this is a job that they do well. And how much time is needed to grow a good special forces soldier? Select it by many parameters - physical and psychological, train to perform combat missions in unfamiliar terrain, secretly penetrate carefully guarded strategic objects, fight in the environment of superior enemy forces, with a limited supply of water, food and ammunition, and at the same time emerge a winner. Years ... A competent spetsnaz commander?
The current Minister of Defense AE Serdyukov, who worked all his life in the field of furniture trade and tax collection, apparently argues as follows: special forces, infantry, tank crews - they are all shooting somewhere. So let them move from one kind of troops to another as needed - what difference does it make. This is about the same as a qualified turner who specializes in the manufacture of high-precision products, say:
- Listen, we have reform here, we do not need so many turners already. Come on the mortar site - a concrete worker. And what's the difference: you have something spinning there, and they spin too. So work.
- What am I going to say to Oleg Kuyanov? - Palych burns. - I will come to his grave, and I will say, everything, Oleg Viktorovich, Hero of the Russian Federation, is no longer our brigade! Her graduate of the Trade Institute, our present Minister of Defense, Serdyukov, broke up! And he told me from a photo, with his eyes:
- How is it, Palych, I told you then near Sernovodsk: leave, I will cover. I stayed alone against three hundred, and destroyed 38 from my sniper, until they threw me with grenades, and then they riddled me with machine guns and cut off my head. I died for special forces and for Russia! How so?!
Repin and I are silent. Outside the window is the usual life, in which now there is no place for special forces. He will reappear when the need comes. And she will come - sooner or later. And again there will be a lot of blood, and then a hard victory. Everything will repeat ...
How is Yura Shevchuk singing:
- Motherland ... To the bastards is gullible, well, and to us ...