On March 1, commemorative events will be held in Pskov on the 18 anniversary of the heroic deed of the paratroopers of the 6 th paratrooper company of the 104 th Guards air assault regiment regiment of the 76 th paratrooper division, repaired by the reporters, and in the post. RF.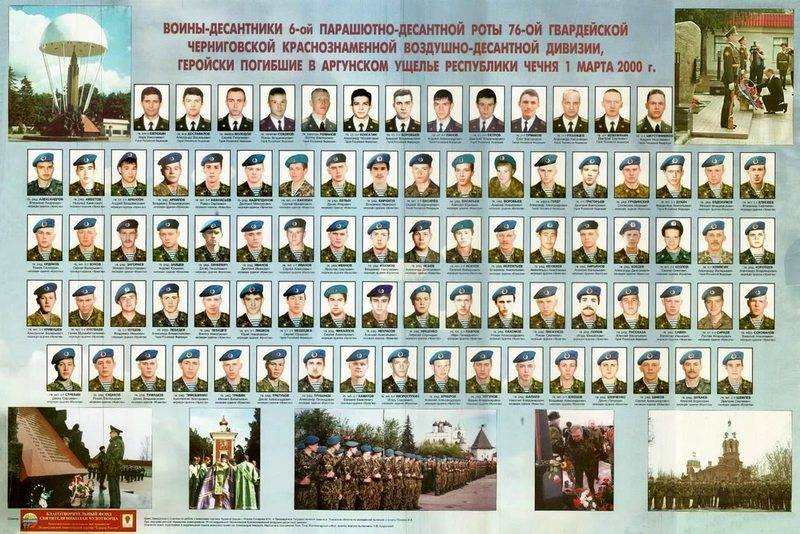 About 200 guests of honor from 30 regions of Russia will arrive in Pskov to take part in memorable events, more than 100 of which are relatives of dead paratroopers, as well as Commander of the Airborne Forces Colonel-General Andrei Serdyukov
- said in a statement.
It is also noted that on this day, in the 13 regions of the country, in all places of deployment of units and formations of the Airborne Forces, memorable events will be held in memory of the fallen soldiers - paratroopers who 18 years ago blocked the path of the militants who were tearing through the Argun gorge of Chechnya to Dagestan . In an unequal battle with the enemy's 84 forces that were many times superior, the paratrooper fell to the death of the brave at 776.0, sacrificing their lives, defending the sovereignty and interests of their Fatherland.
The feat of the Pskov paratroopers is inscribed in gold letters in
historical
Chronicle of the Armed Forces of Russia and the Airborne Forces
- noted in the message.
For courage and heroism shown in fights with terrorists, 22 paratroopers were awarded the title Hero of Russia, of which 21 was posthumous. 69 soldiers and officers were awarded the Order of Courage, 63 of them - posthumously.