The Federation Council will consider a statement in which it intends to call on the OSCE and PACE parliamentary assemblies, as well as the European Parliament, to condemn the Ukrainian law on the reintegration of Donbass, which undermines the Minsk agreements, as well as to demand that Kiev comply with the agreements reached, reports
RIA News
.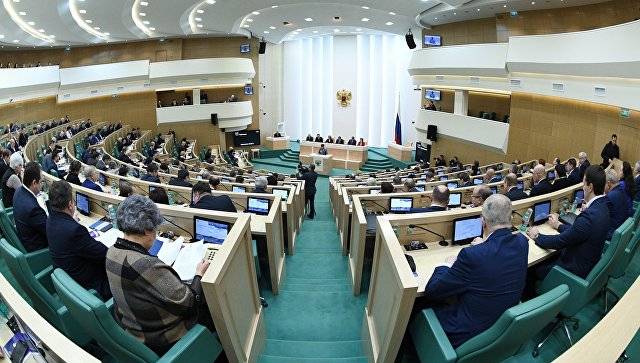 As the head of the international committee of the Federation Council, Konstantin Kosachev, said, senators would like in their statement to call upon international parliamentary assemblies "to evaluate the reintegration law, the law on education and the recent completely monstrous events around the Russian center of science and culture."
The Federation Council invites the parliaments of the OSCE member states, as well as the OSCE PA, PACE and the European Parliament to give an unambiguous assessment of the law ... on the reintegration of Donbass as undermining the Minsk agreements, to demand from Kiev their strict observance, as well as to end policies that threaten European security and stability
stated in the draft document.
It also stresses that the law adopted in Ukraine "essentially aims to legally consolidate the Ukrainian version of the conflict in the Donbass," which, within its framework, is defined as "deterring Russia's armed aggression".
Official Kiev is trying to disclaim responsibility for the humanitarian and socio-economic situation in Donetsk and Lugansk, as well as to untie its hands to use armed forces against its citizens who refused to support the coup d'état in Ukraine in 2014,
noted in the statement.
Senators state that the "policy of" appeasement ", and in fact encouragement by the West of a forceful solution by the Ukrainian authorities of the" problem of Donbass ", largely contributed to the current impasse in the internal Ukrainian settlement."
The statement also says that Kiev does not comply with democratic principles of social development: "in particular, this is evidenced by the law on education, which significantly reduces the possibility of studying in Ukraine in the languages ​​of national minorities", and the recent pogroms in the Rossotrudnichestvo building in Kiev.