Divisions of the US Army, stationed in Europe, received the first upgraded armored personnel carriers. According to the portal defense-blog.com, the Stryker Infantry Carrier Vehicle Dragoon (ICVD) combat vehicles took part in military exercises that took place at the Grafenwer military base in the German city of the same name.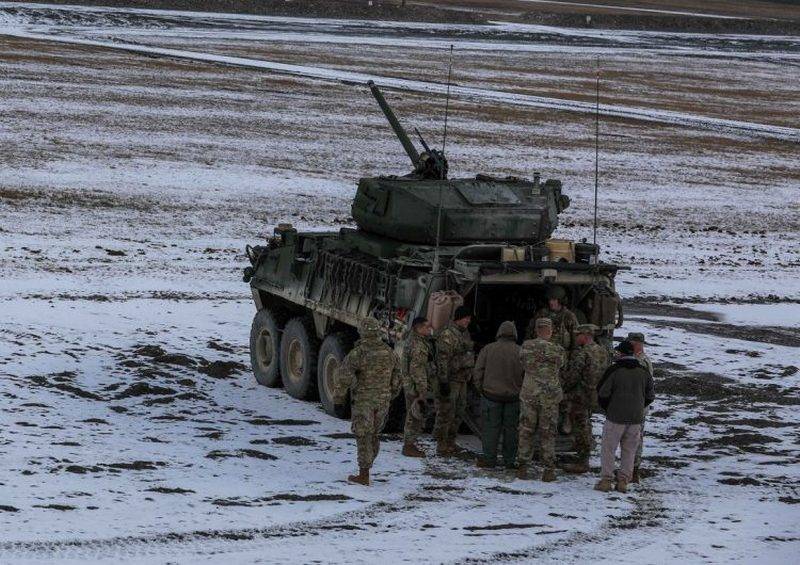 The first Stryker ICVD armored personnel carriers received the 2 Cavalry Regiment of the US Army, stationed in the town of Vilsecq (Bavaria). In the basic version, the Strikers are equipped with 12,7 mm caliber machine guns, but the US Defense Department considered that for the European theater of military operations the combat capabilities of the rifle
weapons
may be few. Therefore, it was decided to equip the armored personnel carriers with uninhabited turrets with an XM30 813-mm gun manufactured by ATK.
This gun can fire single shots, as well as in automatic mode with a rate of fire of up to 200 projectiles per minute. The US Department of Defense believes that in this form, the Stryker will be able to withstand the Russian infantry fighting vehicles BMP-3 and Kurganets-25.
The uninhabited turret holds 156 30 × 173 mm shells and 200 7,62 mm ammunition for a coaxial machine gun. The tower operator controls its armament with an all-weather target detection and identification system. In addition, on the tower there are installations for shooting smoke grenades and, if necessary, ATGW can be mounted, reports
"Warspot"