Kremlin advisers are trying to make a pre-election bet on young people. Especially on those who were born in 1999 — 2000 and who have already turned eighteen. For those who recently received the right to vote. For those who will give this voice of March 18 to the elections - and, possibly, will not give him at all for Putin. March 3 will be a mass event in support of Putin. Media and forums report that those who come to the rally "For a strong Russia!" Rally in Luzhniki will receive 500 rubles.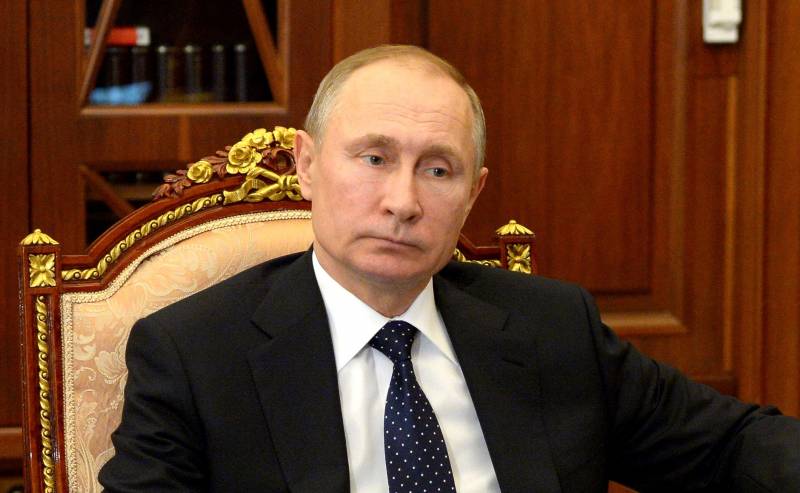 Photo: http://www.globallookpress.com
Hundreds of thousands of teenagers and young people who have lived their whole young lives under Putin's rule are now in the midst of election battles, writes in
«The Times»
journalist Tom Perfitt.
18-year-olds are "generation P," the author says ironically. These young people were born just that year, when Putin first took a high post. Now this youth has the right to vote in elections. Therefore, boys and girls are a "target group" for advisers leading the presidential campaign. After all, these eighteen-year-olds are "vulnerable" - both for apathy and protest moods.
Through its campaign, the Kremlin is trying to appeal to "continuity", thereby opposing the opposition, which calls for something else: not to vote in elections.
The position of Putin's consultants and advisers to the British journalist is understandable. Some of the young people are loyal supporters of Navalny and his associates. It is also easy to explain their election "rage": the Russian opposition leader Alexei Navalny was not allowed to register as a candidate for the presidency. It is for this reason that Navalny called for a boycott of the elections.
This does not mean that everyone will obey Navalny and will not vote on March 18.
The material of the journalist cites the opinions of some young people. These are eighteen-year-old students who attended a class on journalism, conducted by the pro-Kremlin organization Network. All five told a British correspondent that March 18 will vote.
E. Kafizova openly admitted that she would vote "for Putin." Why? She "likes stability."
A. Trubina answered otherwise: she is ready to give her voice to Ksenia Sobchak. "Stability" Trubin ridicules. According to her, you can talk about "stability", but the grandmothers in Russia live in poverty, and people in the very country where "the bulk of oil and gas" receive pensions of eight thousand rubles. In such a country, something goes wrong. "I want a change," she says.
M. Pantuahina will give a voice to Putin - and just because Russia is "not ready for sudden changes". At the same time, it cannot be said that she unconditionally trusts Putin and Medvedev, who constitute the "line". According to her, "the Putin-Medvedev line, Putin-Medvedev should stop at a certain moment." What is this moment? Unknown.
D. Nurgaliev is a supporter of A. Navavlny and even works at the Navalny headquarters in the city of Kazan. He will do as Navalny orders. The young man is going to boycott the elections.
According to him, citizens should be drawn into the protest movement. He believes that "every citizen", sooner or later, "must" be drawn into this movement, since the "horror" of reality concerns everyone. Therefore, "you realize that you must resist the authorities."
The correspondent reminds that for the sake of the appearance of the youth on the day of the election concerts will take place near the polling stations. Back in January, the journalist points out, a "Kremlin document" got into the press, in which it was reported that at the contests for "selfies" at the polling stations, the best authors would receive valuable prizes: iPhones and iPads.
If you wander through the Moscow forums, we note, then you can find references not only about iPhones.
Look at the screenshot below. It is made on the morning of February 28. This is a picture of a network forum about making money on shoots and promotions.
"Extras"
. The page theme has already been closed, but the content has been preserved.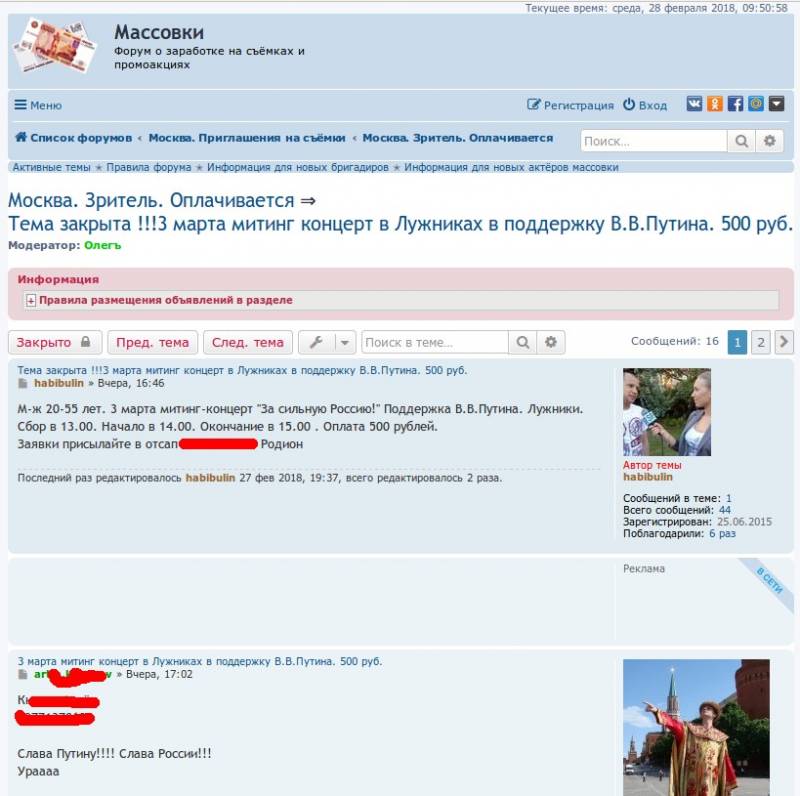 The page is dedicated to the recruitment of participants of the rally-concert at the Luzhniki Stadium in Moscow. March 3 in support of the candidacy of Vladimir Putin in the upcoming elections will be held a rally "For a strong Russia." Public participation is required.
Collecting wishing assigned to 13 hours. The concert will take place at 14 hours. For participation in the event promise a fee of five hundred rubles.
Only a few comments with names and data are attached to the message. Obviously, few Muscovites hurry to support candidate Putin over five hundred.
However, there is another, apparently much more effective way to gather a "one hundred thousandth" rally in honor of the candidate.
According to the Telegram channel
Protest Moscow
The students of the GUU (State Management University) are "invited" to come to Luzhniki for a "concert".
The channel reminds that the secretary of United Russia Andrei Turchak recently reported that a rally in support of Putin will be held in Luzhniki. "We have learned," the channel informs, "that preparations for the rally are already in full swing. And in the best tradition of "United Russia".
"GUUs on VKontakte send messages to students about the 3 March concert in Luzhniki, to which Putin may arrive. Therefore, there will be an FSO check and, in order to get to this beautiful concert, you need to send your full name, passport details and registration. How do you like techno? [...] Each institute (and there are only ten of them in the GUU) is required to send ten people. So consider. Students from several dozens of Moscow universities, state employees, pensioners, doctors, teachers - a hundred-thousand rally in support of the president is ready. "
(The text is given without editing. - O. Ch.). A screenshot with the call "From each institution you need to 10 people" see below.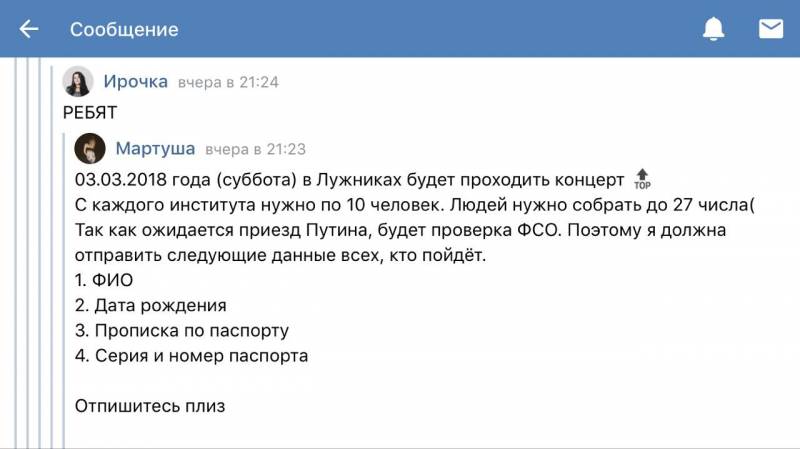 Messages about the rally-concert, money and iPhones, which interested even the major foreign press like The Times, did not appear in a vacuum. The concert in Luzhniki was really announced (
link
). Stas Mikhailov, Oleg Gazmanov, Nikolai Baskov, Valeria, Kristina Orbakaite, Philip Kirkorov, Polina Gagarina, Grigory Leps, Alexander Rosenbaum, Zara, Olga Kormukhina, Turetsky choir, Diana Gurtskaya, Timati, Alexey Vorobev and Denis Maydanov will take part in it.
It is also reported that at the rally "For Strong Russia" in support of Putin about ten people will deliver speeches, among them director Nikita Mikhalkov, singer Timati, pilot-cosmonaut Sergei Ryazansky and other eminent persons.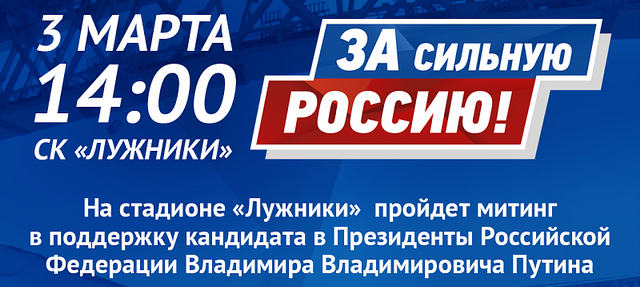 Obviously, Putin himself will appear at the rally.
According to the press secretary of the head of state, Dmitry Peskov, Putin may appear at this rally. "We can not exclude this," - quoted Peskov
"Vedomosti"
.
As for the money for this major event (and Basque with Kirkorov is large, even very much), then so far little is known.
RBC
reports that the rally-concert will be paid from candidate Putin's electoral fund, but the staff's spokesman found it difficult to tell the exact amount: "payments are still being made." Later information will be presented in the financial report of the candidate.
More or less known is another indicator, not financial. Putin's campaign headquarters is counting on not less than one hundred thousand people to come to the Luzhniki campaign. About this agency previously told the "sources".
As RBC reminds, the election rally in support of Putin will not be held in Luzhniki for the first time. A run-in of this kind was a massive action at the stadium during the 2012 campaign of the year. According to the Interior Ministry, 130 thousands of people gathered at that event. Putin then told his supporters that "we are a victorious people" and "we will not allow anyone to interfere in our internal affairs."
About the people who attended the rally 2012, told on the radio
Kommersant FM
N. Batalov: "They are not very willing to make contact, but many of them said that they came centrally by bus, and when they go, they are held in small groups of 50-100 people, and it's mostly clear that these people came it is centralized, but, again, they are not very willing to communicate. "
* * *
Of course, it is difficult to call an event a rally, where "protesters" go for five hundred rubles or at the call of a "party", ten people from there and from here. According to the definition, a meeting should be considered a meeting of a large group of people who set clear goals and objectives, for example, putting forward political demands or expressing an attitude towards a particular politician, official or organization. This rally does not require singers and "stars" from the TV. And of course, no one is driven away to a genuine rally with the help of well-known bureaucratic methods. You either go to the rally yourself, if you support his ideas, or if you don't, if you disagree with the protesters. A meeting of "supporters" or "opponents" for the sake of money or by order is not a rally and cannot be one.
All this could be called well-known if it were not for the mass arrival in the past at similar "rallies" of people who, according to eyewitnesses and participants of the events, come "centrally" by buses.
We often stigmatize the West for its shaky values ​​and double standards. So let's hold a rally without singers and celebrities. Without banknotes and buses. Without bureaucratic appeals in the spirit of the Soviet commitments: "From every institution you need to 10 people." We will hold a real rally. True folk. Let a hundred thousand people come to him or only ten people, but he will be honest.
Can we? Or do we also have double standards?