The next meeting of the contact group to resolve the conflict in the Donbass will be held in Minsk, reports
RIA News
.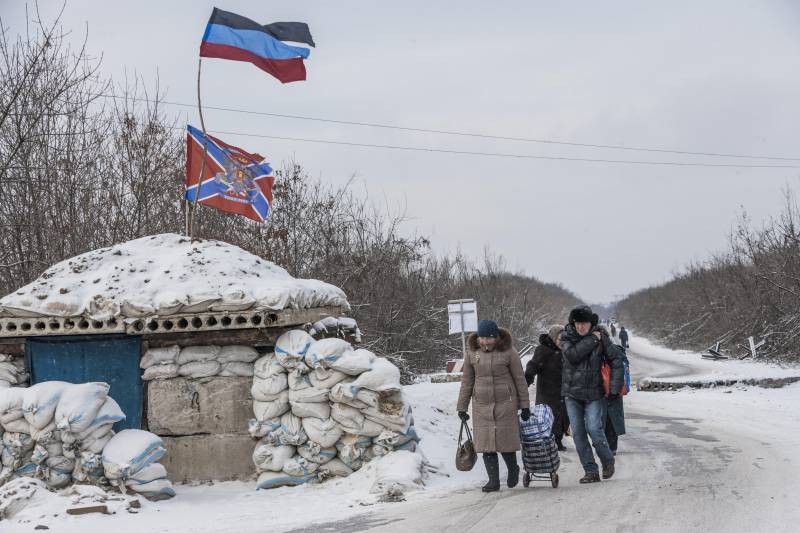 The parties should discuss issues of respecting the truce, the exchange of prisoners, the political aspect of resolving the conflict, the restoration of the infrastructure of Donbass.
The meeting of the February 28 contact group will be the first after Kiev adopts the law on the reintegration of Donbass, in which Russia is called the aggressor, the territories not under control of Kiev.
The nearest meeting in Minsk may allow setting some priorities in the further negotiation process, but the fact that the adoption of this law will affect the further development of the dialogue is a fact. But let's wait for the next meeting in Minsk, then it will become much clearer, said DNR plenipotentiary Denis Pushilin.
The representative of Kiev, Leonid Kuchma, stated that he regretted the absence of mention of the Minsk agreements in the law on the reintegration of Donbass.
My personal opinion: it is a pity that this document does not refer to the Minsk agreements. The whole world says that this is the only document today, a basic one, on the basis of which you can conduct at least some negotiations, but the Ukrainians are not,
he said.
Kiev and the self-proclaimed republics continue to accuse each other of violating the cease-fire. So, Pushilin promised to bring up for discussion the fact of shelling by the Ukrainian security forces of an ambulance car with the wounded, during which 3 people were killed.
In turn, the Ukrainian side said that in the two weeks that had passed since the previous meeting of the contact group, the militia had repeatedly fired at their positions. There are wounded and one dead.
One of the central issues at the meeting will be the exchange of prisoners. 18 February, the parties exchanged relevant listings. Earlier, the representative of Kiev in the humanitarian subgroup Irina Gerashchenko said that the recent negotiations on this issue ended in vain due to the "destructive position" of Donetsk and Luhansk, which, according to her, "do not agree to the creation of a mechanism for finding the missing people with their participation and The ICRC. In addition, she noted that the militia still "did not give a clear answer to the Ukrainian proposal for hostage lists."
However, in the DPR and LPR, they stated that "the work of the humanitarian group was actually disrupted by the representative of Ukraine, Irina Gerashchenko." According to representatives of the republics, "Gerashchenko left the meeting an hour after the start, without expressing a desire to discuss issues on the agenda," among which was the issue of the exchange of prisoners.
The previous exchange of prisoners took place at the end of December 2017. Earlier, negotiators predicted several more stages of this process and planned to hold the next exchange in February-March of 2018.