The newspaper "Die Presse" condemned the young Chancellor Sebastian Kurtz for a trip to the Russian "Tsar". After all, Austria is not a "vassal state", and the new chancellor is not in the mood to "kiss the king's ring"!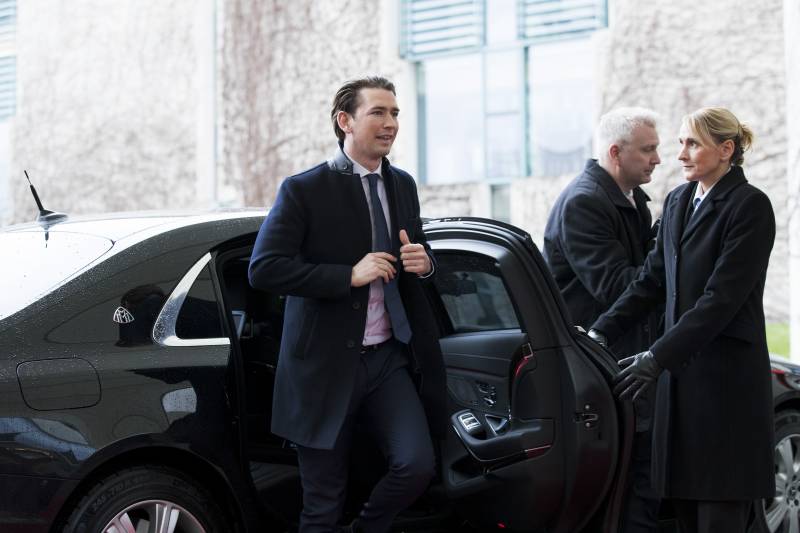 The author of "Die Presse" believes that the new country's chancellor, Sebastian Kurtz, is not to make trips to Russia, to the Kremlin. Economist and publicist Gunter Fehlinger advises the chancellor to refuse from a visit to Moscow. Better the chancellor will visit the glorious city of Washington. There it would be possible to discuss, for example, the question of joining NATO.
"Dear Mr. Chancellor! Please cancel your trip to Moscow ", - quotes
"InoTV"
appeal to the head of austria sebastian kurz author of an article in the die presse.
The economist further lists a number of gloomy dates: the third anniversary of the murder of B. Nemtsov, the fourth anniversary of the "invasion of the Crimea" are coming ... In addition, the Kremlin commits the Eastern crime "the second largest war crime in Syria after Aleppo". Finally, Putin's fourth term is coming to an end. So, the elections are on the nose.
Having listed all this, the publicist concludes: coming to Moscow at such a moment is perceived unequivocally: as "agitation for Putin"!
The economist is displeased and finds double standards in Mr Kurtz:
"How should the opposition and the Russian middle class perceive it?" On the one hand, we support the EU sanctions and at the same time make solo visits with obvious symbolism and a reason for choosing the time. "
The author then offers Kurtz his travel plan.
With the first visit, Kurtz could go, say, to Switzerland - in order to emphasize what is common among neutral countries. And it would be better to fly directly to Washington, where "to prepare the ground" for the entry of the native state into NATO and thereby complete integration into the Western world.
But Moscow ?! A visit there is a "PR stunt" for Putin. "We are not a vassal state of the tsarist empire in Central Europe, whose feudal lords must make a pilgrimage to the Kremlin and take a kiss on the king's ring," the economist resents. - This role can be safely entrusted to Viktor Orban and Alexander Vucic. We have always been and remain part of the Western world and have never been neutral until the Soviet Union imposed this neutrality on us by force. " "Please cancel the visit, Mr. Chancellor," Mr. Fehlinger urges Kurtz.
So, Gunter Felinger, if he were Chancellor, would have behaved the opposite of Kurtz. That on the mind of Moscow, and at Felinger - Washington. Kurtz thinks about peace and cooperation between nations, and Felinger thinks about NATO and the Cold War. Kurtz behaves like a politician seeking compromise, and Felinger acts like an instigator of war.
Observed and commented on Oleg Chuvakin
- especially for topwar.ru