In the Astrakhan region, according to the Ministry of Defense of the Russian Federation, for the first time, firing was carried out using the Pantsir-S anti-aircraft missile and cannon systems. Training and combat maneuvers were held at the "Ashuluk" range. From the message of the Department of Information and Mass Communications
MO RF
:
Combat calculations 1 army air defense missile defense VKS, who arrived at the landfill "Ashuluk" from the suburbs, in a difficult jamming conditions worked standards for loading missile and cannon weapons Zrpk "Pantsir-S", deploying complexes from traveling to combat, detecting and tracking targets , conducting single and group firing both from equipped combat positions and in movement, including salvo firing with missile weapons at air targets and cannon weapons at ground targets.
It is noted that in total over two dozen combat vehicles were involved in the exercise. At the same time, the Pantsir-S ZRPK calculated about 2,5 thousand shots on more than 20 target missiles. Targets imitated UAV, aerodynamic targets and cruise missiles. Also, strikes were applied to targets in the form of lightly armored ground equipment.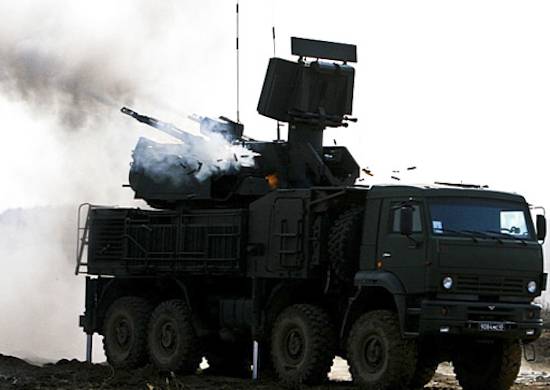 From the material:
After the successful initial shooting and maintenance, the Pantsir-S air defense missile systems will be delivered to the Moscow Region at the permanent deployment locations of the 1 anti-aircraft missile regiments of the army of the air defense missile defense system of the Russian Federation, where the new Pantsir-S air defense missile systems will be on air defense duty Moscow and provide cover for anti-aircraft missile systems C-400 "Triumph".
For your information:
ZRPK "Pantsir-S" is capable of hitting any targets with a minimum reflective surface of 2-3 square. cm and speeds up to 1000 m / s, maximum range 20 kilometers and altitude up to 15 kilometers, including airplanes, helicopters, drones, cruise missiles, guided bombs and high-precision
weapon
.