Russian Defense Ministry spokesman Igor Konashenkov commented on the emerging situation in Syria. According to the Major General of the Armed Forces of the Russian Federation, the most difficult situation is in those Syrian territories that are controlled by the United States of America and the militants under its control. We are talking particularly about Raqqa, which was subjected to carpet bombing by the American coalition, in which there is a real humanitarian catastrophe: the water supply system has not yet been restored, there is no medical care, hundreds of corpses of the dead have not been removed from under the rubble. areas of territories.
News agency
TASS
quotes a statement by Major General Igor Konashenkov:
Today, the most difficult situation for the civilian population of Syria is in those areas that are controlled by the US-led coalition and troops of the armed opposition under its control. After loud statements about liberation from ISIS (* banned in the Russian Federation), these areas turned into "black holes", the situation in which is completely opaque neither for the Syrian government, nor for international observers. Moreover, these areas turned into recreation areas for militants, where yesterday's gangsters, who replaced the ISIL black flags * with the banners of the "oppositionists", are being treated, gaining strength and re-equipping in order to terrorize the civilian population.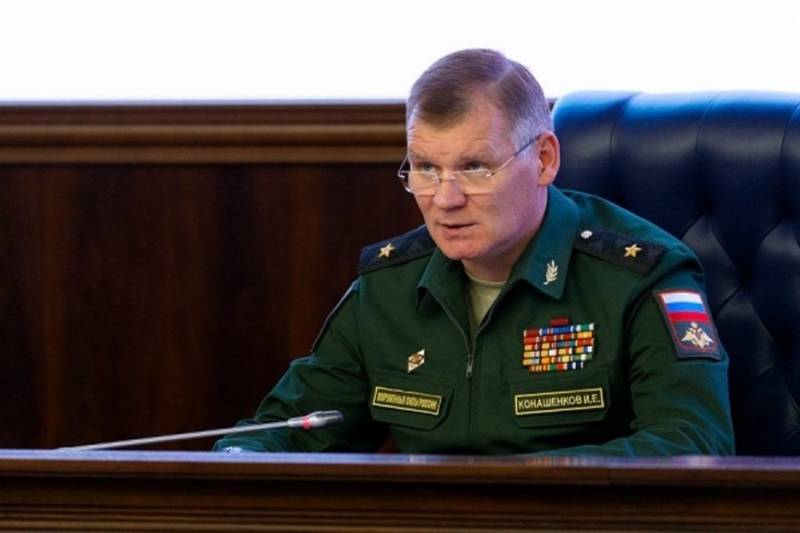 According to Igor Konashenkov, the militants forcibly hold around 60 thousands of Syrians in the Er-Rukban camp to actually have a living shield behind which the training of new terrorist units is being carried out.
Igor Konashenkov:
The camp has a high incidence rate, including fatal. At the same time, 20 medical volunteers from Jordan present in the camp only in exceptional cases and with the permission of the militants, take seriously ill patients to the nearest hospital. Humanitarian convoys and evacuation of people in need of treatment to Damascus medical facilities could improve the situation, as is done for seriously ill residents of Eastern Guta.
According to Igor Konashenkov, the admission of international humanitarian convoys to Rakka is necessary. The city needs mine clearance, as thousands of unexploded mines and shells remain in the ruins of Raqqah, as a result of the detonation of which people are dying every day, trying to arrange at least some life on the ruins.
Recall that earlier, Washington stated that the International Red Cross and Crescent missions have nothing to do in Rakka, since "there is no humanitarian catastrophe there."