The American company Stratolaunch Systems has tested the prototype aircraft Stratolaunch with a fully assembled glider. About this in his twitter wrote the company's founder and co-founder of Microsoft Paul Allen. According to him, a fully assembled aircraft with the largest wing span in the world, 24-25 in February, 2018, performed a series of runs on the runway.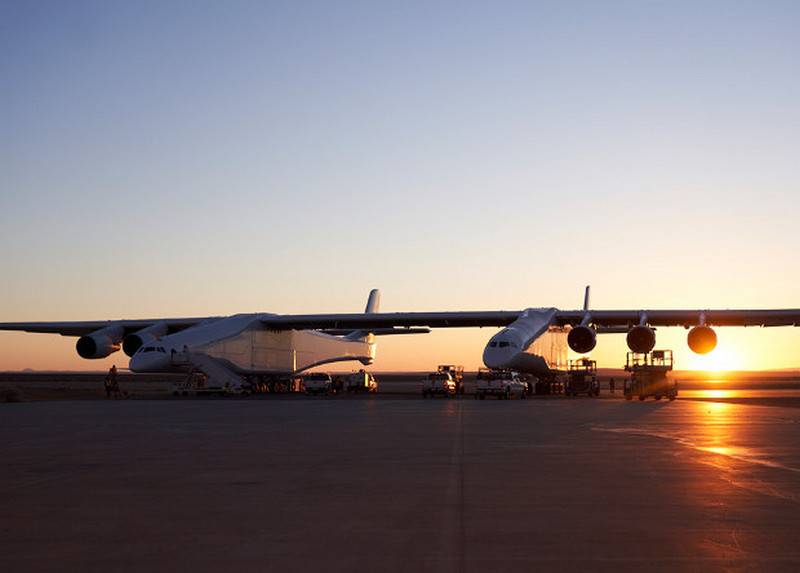 The Stratolaunch aircraft began performing runs in December last year. Until now, there were no elements in the airframe, including the leading edges of the wing in the area of ​​the engine mount. At the stage of pre-flight tests, this is permissible, especially at the stage of the first prototype. An airplane with a fully assembled glider during runs in February of this year reached a speed of 40 knots (74 kilometers per hour).
Stratolaunch is made according to the two-body circuit. The span of his wing is the 117,3 meter. The length of both fuselages is 72,5 meters. The aircraft has a mass of 226,8 tons and maximum take-off mass - 589,7 tons. For take-off Stratolaunch you need a strip of length 3,7 kilometers.
A promising aircraft will be used as an air launch platform - small rockets will be launched from it to put the payload into low near-Earth orbit. Stratolaunch can carry a payload of tons of 249,5.
According to the current plans of Stratolaunch Systems, the first demonstration flight of the new aircraft with the launch of the launch vehicle will take place in 2019 year. It will launch the Pegasus XL cruise launcher, which weighs 23,1 tons. What is the payload will carry the rocket, is still unknown. In general, Stratolaunch can provide simultaneous launch of three Pegasus-type missiles, the scientific portal "N + 1" reports.