February 27 1988 began to develop events, which, according to historians, can be considered the first case of large-scale interethnic conflict in the post-war Soviet
stories
. These same events today are called by many the beginning of the destruction of Soviet statehood in the Caucasus. We are talking about events in the Azerbaijani city of Sumgayit.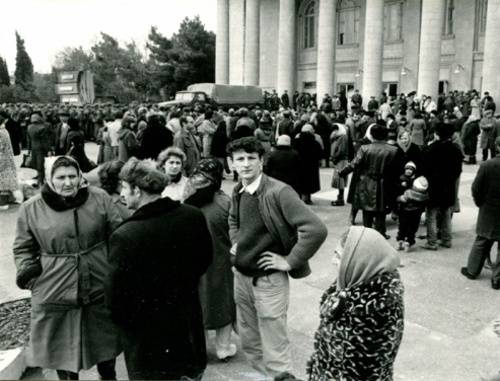 Until now, the assessments of those events look contradictory, which is often associated with the ethnicity of experts, such assessments give. However, one cannot be denied exactly: in the Transcaucasus, in February 1988, blood was shed, and the echoes of this bloodshed are still tragically echoing in the Transcaucasian region.
The Sumgait conflict, which, according to official data, killed 32 people and suffered more than 110, led to the first massive refugee flows within the Soviet Union in the entire post-war history. The Armenian population stretched to the Armenian SSR, as well as to the Nagorno-Karabakh Autonomous Region of the NKAR (to Stepanakert).
The official results of the investigation of the events by the USSR Prosecutor General's Office: 26 dead - ethnic Armenians, 6 - Azeris. Armenian sources today claim that the death toll during the tragic events in Sumgait is more than the official values ​​at least 10 times.
The bloody clashes between Azerbaijanis and Armenians in Sumgayit took place against the background of frequent rallies - on the one hand "for the annexation of the NKAO to the Armenian SSR", on the other - "for helping the Azerbaijani population of Armenia". The prime cause of all these events could well be provocation against the background of the upcoming so-called "parade of sovereignties" of the final period of Gorbachev's restructuring. In the historiography there is also a version about the incitement of the Sumgait pogroms by Western intelligence agencies. Another question is: where did the "local" special services look in this case?
From the book "Rebellious Karabakh" of the former officer of the Office of Preventive Services of the USSR Ministry of Internal Affairs Viktor Krivopuskov:
The spread of slanderous rumors that Azerbaijanis are being murdered and raped in Armenia, the incitement of hatred towards Armenian fellow countrymen against the background of professional and everyday disorder and deprivation, appeals to free apartments from Armenians and settle in them allowed the organizers to easily provoke pogroms and killing of Armenians.
The tragedy in Sumgait and to this day often remains the reason for more than tense Armenian-Azerbaijani relations, which translates into a military conflict in Nagorno-Karabakh. It would be desirable to hope that the parties to this conflict, nevertheless, have stepped over both through external provocations and through their own ambitions, and put an end to the protracted path of violence and inter-ethnic strife.