The Terminator fire support machine, created on the basis of the Soviet 781 Object, is one of the most powerful and interesting designs that will come into service with the Russian army,
Lenta.ru report
opinion of experts of The National Interest.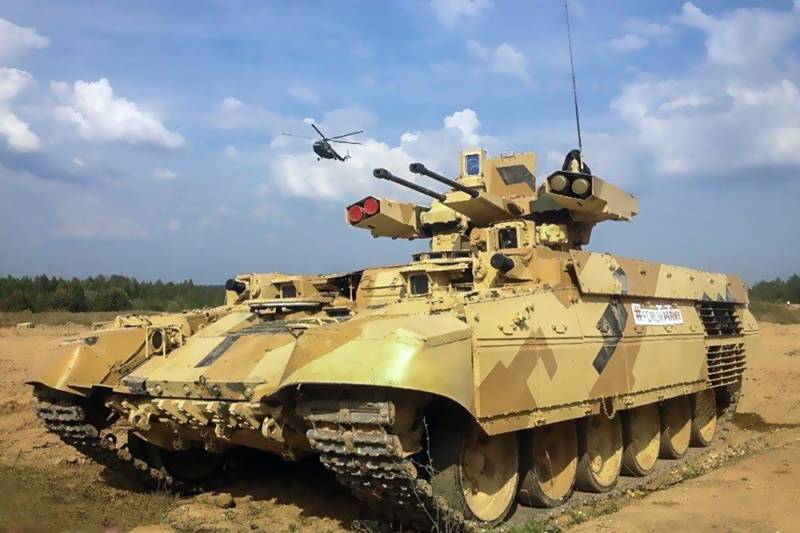 According to the authors, this year "Uralvagonzavod" will supply the Russian military 12 "Terminators", at the stage of development they got the name "Object 199".
The publication notes that "the design of the newest Russian combat vehicles of fire support is based on the construction of the 781 Object, and interest in such equipment in the USSR was revived during the Afghan war, and in Russia after the first Chechen campaign."
The submission says that the new Terminators based on the 781 Object receive state-of-the-art weapons.
The current fire support vehicle provides superior anti-tank defenses; it has four ready-to-launch rockets, compared to two on the 781 Object. Rockets on the current car are also more modern than rockets on the 781 Object,
write authors.
The modern Terminator model, first shown in the 2013 year, is made on the T-72 chassis.
The machine weighing 44 tons "is equipped with two 30-mm automatic guns 2A42, 7,62 mm
tank
a Kalashnikov machine gun, as well as four launch containers for guided missiles of the 9M120 family (Ataka complex) and two 30-mm automatic AG-17D grenade launchers, "the publication said.
Fighting vehicle also passed tests in Syria.