The next act of criminal vandalism against Russian diplomatic missions has manifested itself in Ukraine. Radically minded thugs who do not know what normal work is for the money of the sponsors of Maidan chaos under the black and red flags of the Nazi collaborators came to the consulate of the Russian Federation in Odessa and threw the fence in bottles of red paint.
Odessa Portal
The Duma
who, in the information plan, supports such tricks of the radicals, wrote that under the walls of the Russian consulate, thugs traditionally accused Russia of all Ukrainian sins and sucked "She hasn't died yet ..."
At the building of the Russian diplomatic mission in Odessa, officers of the national police were on duty, but traditionally no vandal resistance was rendered. There are no detainees either.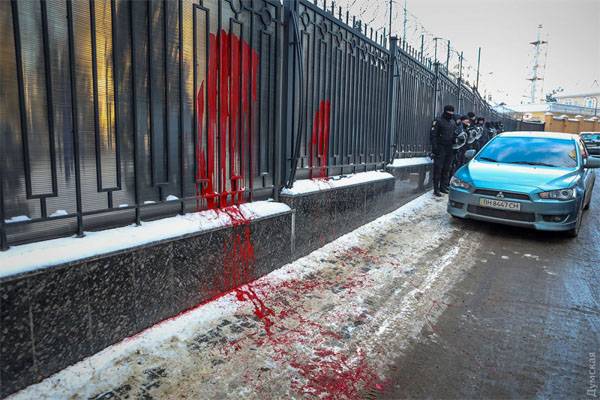 Портал
The Duma
calls the radicals "patriotic Odessa". Apparently, these "patriots" from among those who burned their own countrymen in the walls of the House of Trade Unions in 2014.
After working as sponsors, the radicals retired - obviously, to new calls by puppeteers for such actions.