After the news from Estonia that in one of the military units they study the song of the so-called "forest brothers" - actually accomplices of the Nazis, from the Baltic republic come information that the soldiers of this part refused to perform this "work". Such information is shared by the news agency.
Sputnik Estonia
.
The article notes that the soldiers decided to abandon the performance of the song, as there are lines in it that speak of the need to kill the Russians and the glorification of the murderers. The servicemen say that they do not intend to sing this, since several hundred thousand Russian and Russian-speaking citizens live in Estonia itself.
According to official statistics in Estonia there are about 350 thousand Russian-speaking people with a population of about 1,8 million people.
It is reported that the command of the military unit does not itself welcome this kind of repertoire, and therefore it can be assumed that the song of the "Forest Brothers" is learned from above to memorize the servicemen.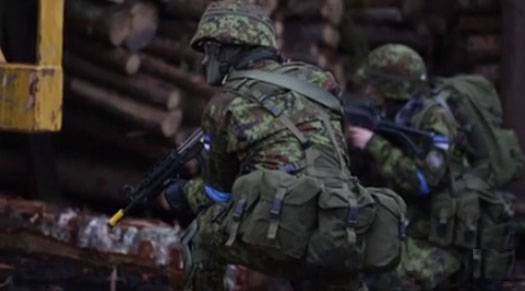 It is noted that in Estonia, the Kitezh Human Rights Center sent a letter to the Ministry of Defense with a request to find out who is forcing the soldiers to use an improper repertoire that gives away xenophobia and radical nationalism.