Militants of radical groups are preparing provocations using chemical
weapons
in Eastern Guta, nine terrorists "Dzhebhat an-Nusra" (banned in the Russian Federation) destroyed in Idlib. Reports about it
FAN
with reference to Syrian sources.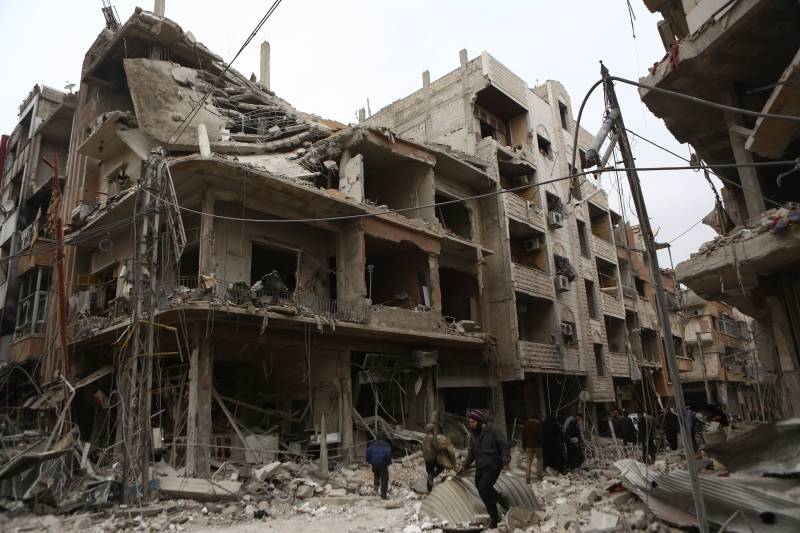 In Eastern Gute, fierce fighting continued between the Syrian Arab Army (CAA) and anti-government armed groups. Government forces attacked militia strongholds in the Nashabiya and Hazram areas. The servicemen took control of a number of territories around Nashabiya and are preparing to storm the city. In addition, the Syrian army occupied four buildings near the warehouse of military equipment in Haraste. At the same time, information was received that the leaders of illegal armed formations were preparing provocations using chemical weapons in Eastern Gut. Thus, the Islamists are planning to accuse the Syrian government of a war crime.
In the vicinity of the Kurdish city of Afrin (Aleppo Province), intense firefights were observed between the Democratic Forces of Syria (SDF) and the pro-Turkish "Free Army" (FSA) detachments during the day. The Turkish Air Force also took part in the fighting. The SSA captured the settlements of Samalik, Sheikh Mohammedli, Dudu, Urmanli, Wilakli and Kunda Dudu from the SDF. Later, the settlements of Bandarak and Maidan Iqbis passed under the control of the "free army". Turkish artillery attacked Kurdish strongholds in the settlements of Andara and Maremin. It was reported that a child was killed under fire and another four people were injured.
The Russian Aerospace Forces inflicted a number of attacks on the strongholds of al-Nusra in the southern part of Idlib province. Under the guise of Russian
aviation
the fortified areas of the Islamists were attacked by the Syrian Arab Army (SAA). Artillery of government troops fired at militant locations near Khan Sheikhun. It is also reported that a Jebhat al-Nusra vehicle exploded near the city of Arikh. Five militants were eliminated as a result of the detonation of IEDs. In addition, four terrorists were neutralized in an explosion near the village of Harem.
The fighters of the Syrian Democratic Forces (SDF) continued to carry out arrests of civilians in Hasaka province for subsequent forced mobilization into the ranks of the Kurdish militia. Earlier it was reported that in the southern part of the region, under the leadership of US military personnel, militants are being trained, the main task of which will be to protect the territories seized by the SDF, including from the Syrian army. Local sources noted that the former members of the Islamic State (IG, grouping is prohibited in the Russian Federation) are also part of the new groupings.