After confirming information about the arrival of Syrian government forces in Afrin, official Ankara announced the completion of the "first stage" of Operation Olive Branch. Recall that the military operation in the north of Syria by Turkish troops was launched last month. At the same time, the Turkish command reported that the main objective of the "Olive branch" is the destruction of terrorists. By terrorists, the Turkish leadership understands Kurdish troops stationed on the Syrian territory near the Turkish borders.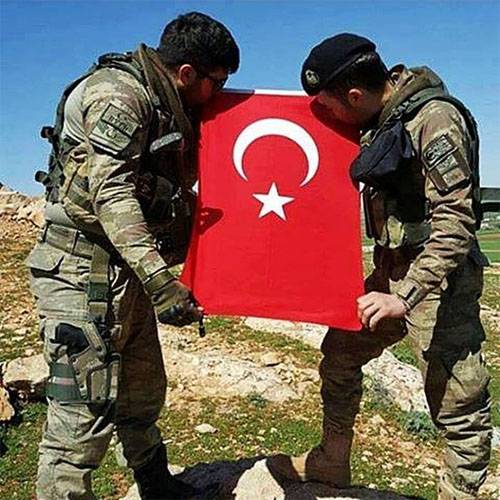 Haber Turk
reports that following the results of the first stage of the military operation, the Turkish troops lined up in a single line - a half ring in the Syrian Afrin. We are talking about two military groups of the Turkish Armed Forces, which at one time crossed the border of the SAR, moving out of the provinces of Kilis and Hatay.
The statement of the representatives of the General Staff of the Armed Forces of Turkey draws attention. The statement refers to the "liberation of Afrin from terrorists." If we consider that Afrin is currently controlled by the Syrian government army, such a statement looks very entertaining. By the way, the Prime Minister of Turkey Binali Yıldırım made a similar statement, being at the welding event for the first joint of a submarine of Turkish origin. According to Yıldırım, the liberation of Afrin from terrorists will allow approximately 350 thousands of refugees to return to this region of Syria.