A certain kind of details appeared in the media about the plans of the Ministry of Defense of the Russian Federation on the order of a new aircraft carrier for the needs of the Naval
fleet
. On the TV channel "Star" were announced information on the development of a new project.
This project involves the creation of a new aircraft carrier with the following declared characteristics:
the length of the warship is about 330 m, the width is 40 m. At the same time, the size of the deck will be approximately twice as large as that of the Admiral Kuznetsov heavy aircraft carrier. Recall that at the moment "Admiral Kuznetsov" is the only aircraft carrier in the Russian Navy.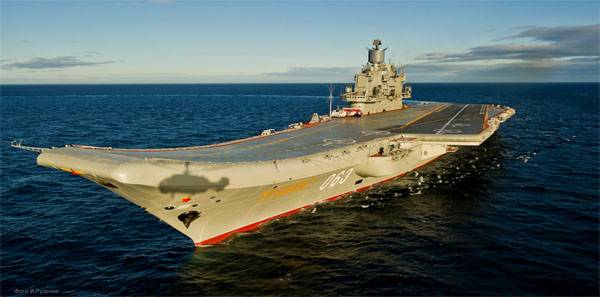 Such dimensions will allow the new aircraft carrier to carry on its board up to 90 air assets - both airplanes and helicopters.
It is known that the project of the newest aircraft carrier assumes the possibility of taking on board its own aircraft and long-range radar patrols.
On the channel
"Star"
reported that the work on the project of the newest aircraft carrier is carried out by experts of the Krylov State Research Center. And these works are carried out in the framework of the state program, calculated for the period up to 2025 year.