The Security Service of Ukraine (SBU) announced an attempt by the Russian special services to blow up the missile cruiser "Ukraine", preserved from 1996, stationed in Nikolaev. This was stated by the deputy head of department Viktor Kononenko during a briefing.
It is alleged that the Russian David Ponomarev allegedly had to carry out the sabotage together with his accomplices. According to Kononenko, the bombing was planned to be held in 2015 on the Constitution Day of Ukraine. The purpose of the attack, as stated in the SBU, is intimidation of the local population.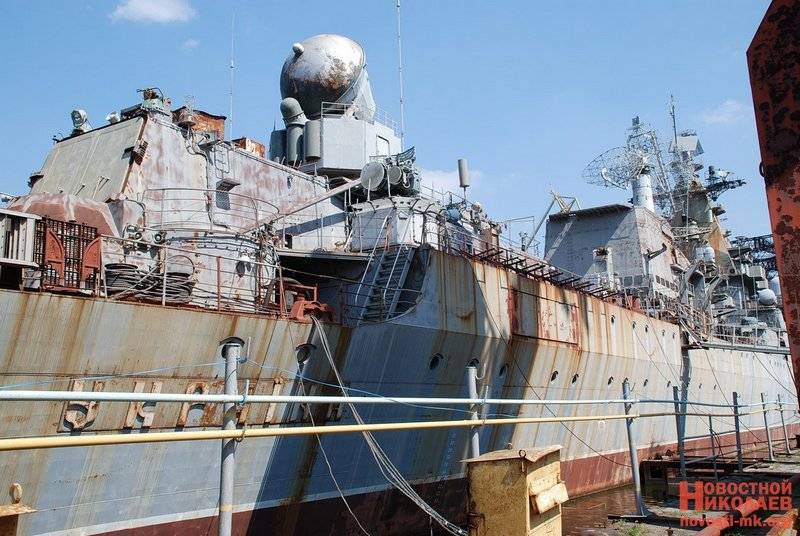 Also in the message of the SBU says about the disclosed plans of the Russian special services to hold "fake event to incite ethnic hatred in Transcarpathia" under the guise of public hearings about the protection of the rights of the Hungarian minority and the intention to burn Romanian schools in Bukovina.
Allegations of trying to spoil relations between Russia and Hungary have also been made in Kiev. The occasion was the attack on the building of the Hungarian cultural organization in Uzhgorod, 4 committed in February. Then an unknown person threw a Molotov cocktail at the organization's office. Then, Deputy Prime Minister of Ukraine Vyacheslav Kirilenko said that he sees in the incident "the direct interest of Russia." "The bottle with the Molotov cocktail today in Uzhgorod was held by the Kremlin's hand. Definitely! "- he said.
The Ukraine cruiser, the construction of which began in 1984, has been in unfinished condition at the shipyards in Nikolaev since 1990. Under the section of the Black Sea
fleet
he was transferred to Ukraine. After that, the Ukrainian authorities several times announced plans to finish building the ship or sell it. Despite this, the cruiser continued his stay at the mooring wall. In December 2017, Ukroboronprom announced that the Ministry of Defense of Ukraine was not interested in completing the ship.