115 years ago, 23 February 1903, was born a man who for several generations became a symbol of perseverance, courage and honesty - a journalist, a writer, a fighter against fascism
Julius Fucik
. True, after a series of "velvet revolutions" that destroyed the socialist camp, they tried to debunk the name of this heroic anti-fascist. His "fault" in front of various falsifiers
stories
was only that he was a communist.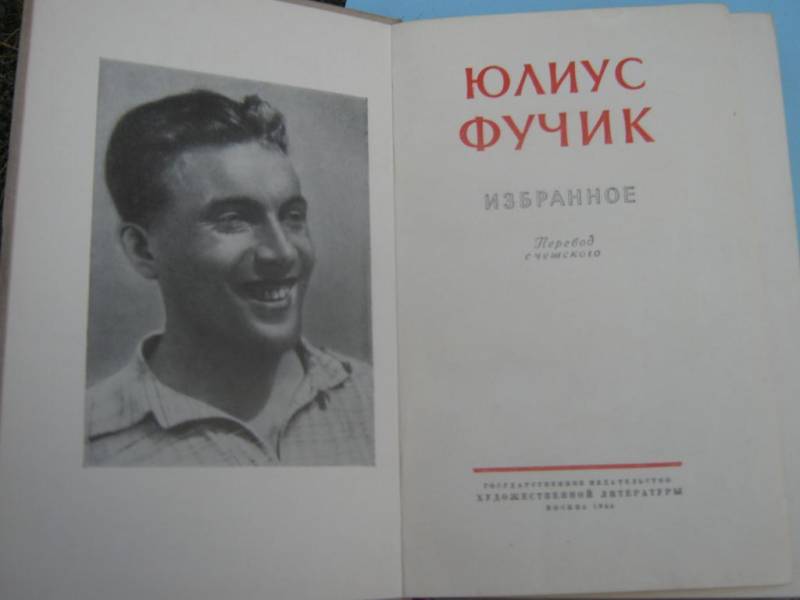 The future journalist was born in Prague (then the Czech Republic was part of Austria-Hungary), in the family of a worker-turner. He was named Julius after his uncle, who was a composer. The boy was fond of history, literature, theater. He was especially inspired by the personality of the famous Czech patriot Jan Hus. At twelve, he even tried to produce his own newspaper called "Slav".
The family wanted Julius to be an engineer, but he entered the Faculty of Philosophy of Prague University. When the young man turned 18 years, he joined the Communist Party. Soon he became the editor of the communist newspaper Rude Pravo, as well as the magazine Tvorba. Not only engaged in political journalism, but also literary and theatrical criticism.
An important stage in the life of Julius Fucik was the visit to the Soviet Union in 1930. He went there as a journalist and stayed in the Soviet country for two years. He traveled a lot in Central Asia. Life in the USSR led him to delight. Following his long business trip, Fucik wrote a book entitled "In a country where our tomorrow is already yesterday". After that, he fiercely defended the USSR in polemics with everyone who criticized the Soviet Union.
In 1934, Fucik went on a business trip to Germany. And there he did not sharply like the situation. After this trip, he began writing articles against fascism. This was not to the liking of the authorities, who at that time were no longer opposed to cooperation with Hitler. And the "soft" persecution, to which the Communist Party had previously been subjected (nevertheless, having opportunities for legal activity), became more and more replaced by "hard".
To escape the arrest, the Communist journalist was forced to leave for the Soviet Union. But in 1936, he returned to his homeland. First, he did not want and could not stand aside from the struggle, and secondly, he had a beloved there - Augusta Kodericheva. Later this woman will become known as Gustina Fuchikova. Also, like Julius, she will be destined to pass through the fascist dungeons. But she will survive, and thanks to her, people of the whole world will get a "Report with a noose around their necks" ...
In 1939, the Nazis occupied the Czech Republic. The communists had to go deep underground. At the very beginning of the occupation, the Nazis offered Fucik cooperation for money and, most importantly, for security. He refused and was forced to hide, wander around the different cities, parting for a long time with his wife. But at the same time he fought against the invaders
weapons
, which he had - with his pen. Comrades suggested he go to the USSR, since he was wanted - he refused.
"We, Czech musicians, artists, writers, engineers, we, whom your censorship closed forcibly, we, whose hands are tied by your terror, we, whose comrades experience inhuman suffering in your prisons and concentration camps, we, the Czech intelligentsia, answer you Minister Goebbels! Never - do you hear? - we will never change the revolutionary struggle of the Czech people, we will never go to your service, we will never serve the forces of darkness and enslavement! "-

he declared on behalf of his fellows in an "Open Letter to Minister Goebbels", which was distributed like a leaflet.
Several times Julius Fucik was on the verge of arrest, and only a miracle was saved. One day, in 1940, a gendarme appeared at the house where he was with his wife. The door opened Gustina. She tried to tell lies that there was no Julius, but she could not be deceived. The matter ended with Fuchik succeeding in placing the gendarme to himself with a simple question: "Will the Czech allow conscience to arrest the Czechs on the orders of the German Gestapo?" Later this gendarme joined the Communist Party.
They came to Gustin and a few more times, trampled books, searched the house, threatened, but Julius was far away. Unfortunately, 24 April 1942, Fuchik was nevertheless arrested. This happened due to the fact that at the factory where anti-fascists distributed leaflets, it turned out to be a secret Gestapo agent. From this began the chain of arrests, which eventually led to the Elinek family, who hid Julius. He had fake documents, so at first the Nazis did not even realize that the same journalist they had been looking for fell into their hands.
Then began the terrible. A few hours later, Gustin was also arrested. She was shown a brutally beaten husband, and she had to, holding back emotions, say: "I do not know him." But because of the betrayal of one of the unstable comrades, Fuchik's personality nevertheless became known to the fascists.
"He was standing in the corner, in the ring of armed Gestapo men, but it was not a vanquished man, but a winner! The eyes said: "You can kill me, but you cannot kill the idea for which I fought, for which I was tortured ..." -

later in his memoirs, Gustin, who survived in Gestap prisons and camps, will write.
For the fighter journalist the most tragic and heroic period has come. Subjected to monstrous beatings, he did not betray any of his comrades. Sometimes they drove him around Prague to show life in freedom: here, they say, it continues. This torture by the temptation of freedom was also not easy to endure.
Always, when Fuchik appeared at least some piece of paper and a stub of a pencil, he wrote some notes. But, of course, in prison with this hard. Once one of the guards sympathetically wondered if Julius wanted anything. He asked for paper.
It turned out that this warden, Adolf Kalinski, is actually a Czech patriot. He managed to deceive the Nazis: he pretended to be a German and got into such an ugly position to help prisoners. Thanks to him, Fucik had not only paper, but also the opportunity to bring the "Report with a noose around his neck" outside the prison. This is how Julius described this meeting:
"An SS guard who let me into the cell searched my pockets just for sight.

Slowly asked:

- How are you?

- I do not know. They said that they will shoot tomorrow.

- It scared you?

- I'm ready for this.

With a familiar gesture, he quickly felt the floor of my jacket.

- It is possible that they will. Maybe not tomorrow, later, maybe nothing at all will be ... But at such times it is better to be ready ...

And again he fell silent.

"Maybe ... You don't want to give anything away?" Or write something? It will be useful. Not now, of course, but in the future: how did you get here, did anyone betray you, how someone held on ... so that what you know did not die with you ...

Do I want to write? He guessed my most ardent desire. "
The "neck loop report" ends on the 9.6.43 date. Then Fucik was taken to Berlin. After a quick fascist court, the prisoner was executed. It happened September 8 1943, in Plötzensee prison.
After the Victory over fascism, this courageous man was awarded (posthumously) the International Peace Prize. And its main Report is translated into 80 languages.
However, after the "velvet revolution" in Czechoslovakia, Fucik tried to blacken and slander. For example, one of the questions that liberal whistleblowers publicly asked sounded very cynical: why didn't he shoot himself during the arrest? But Fucik himself described the moment of his arrest in that very Reportage: he could neither shoot at enemies, nor shoot himself, because other people would have died:
"... Nine revolvers are aimed at two women and three unarmed men. If I shoot, they will die first. If you shoot yourself, they will still fall prey to the fired up shooting. If I do not shoot, they will sit for six months or a year before the uprising, which will free them. Only Mirek and I will not be saved, they will torment us. "

In addition, they tried to accuse the anti-fascist of collaborating with the Gestapo, and even that he did not write the "Report with a noose around his neck". However, we are all familiar with this - we had the same attempts to expose the heroes and outstanding people of the Soviet era. And, unfortunately, they continue to this day.
When the slander on Fucik was not crowned with success, his name was attempted to be forgotten. But his words spoken in the face of death:
"People, I loved you. Be carefull",
known, perhaps, to every educated person. And the anniversary of his execution - September 8 - and today is the Day of International Solidarity of Journalists.