Портал
Flotprom
citing sources reports on the "screw reform" BDK in the Russian Navy. We are talking about the decision to swap the right and left diesel engines 16ЧНХNUMX / 26 BDK (large landing ship) "Peter Morgunov." According to the statement of the "industry" source of the above-mentioned portal, such castling will change the nature of the rotation of the screws, which will eliminate the problems that have manifested themselves when the lead ship of the project ("Ivan Gren") is moving in reverse.
It is noted that if the rearrangement of engines at the "Peter Morgunov" will lead to a positive result, then the relevant state commission will decide on changing the engines for the BDK "Ivan Gren". Now the lead ship of the series, the large landing ship Ivan Gren, is undergoing final tests. Earlier it was planned to transfer it to the Navy in May 2018. It is noted that in this way, changes in the location of power plants are likely to be carried out after its transfer to the Navy.
Earlier, the tests of the Ivan Gren BDK of the 11711 project were suspended. One of the reasons is connected with the identification of problems when the ship is moving in reverse.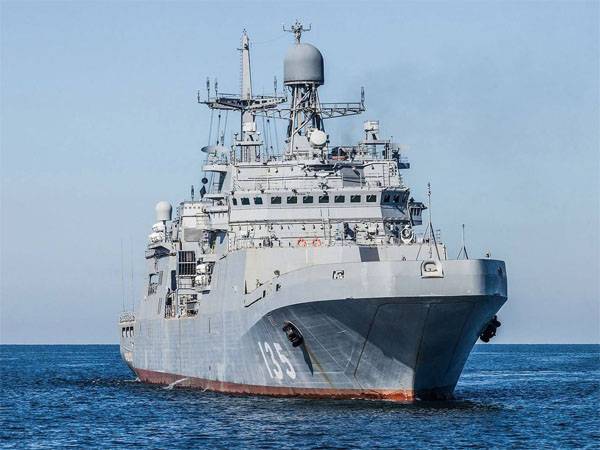 BDK "Peter Morgunov" was laid at the shipyard "Yantar" in 2015 year. The main characteristics of large landing ships of the 11711 project are as follows: displacement 5 thousand tons. Length 120 meters, width 16,5 meter, draft 3,6 meter. The speed of 18 knots. Cruising range 3,5 thousand nautical miles at speed 16 knots. The autonomy of swimming 30 day. The crew is about 100 people.