It became known that the Russian military will soon receive a batch of combat support vehicles
tanks
(BMPT) "Terminator". Information Agency
Interfax-AVN
reports that the transfer of 12 units of this kind of equipment will be implemented in March of this year. It is known that the BMPT Terminator in 2018 for the first time will take part in the Victory Parade on Red Square.
The combat vehicle supporting the Terminator tanks, which will go to the troops, is made on T-90A tank units. "Terminator" is designed to defeat anti-tank weapons, including the process of suppressing enemy personnel, capable of using anti-tank systems and grenade launchers. BMPT "Terminator" can be used on enemy tanks, to conduct effective fire on protected stationary targets.
The BMPT armament complex creates a high-density fire and can attack up to 4's targets at the same time, including helicopters and low-flying aircraft.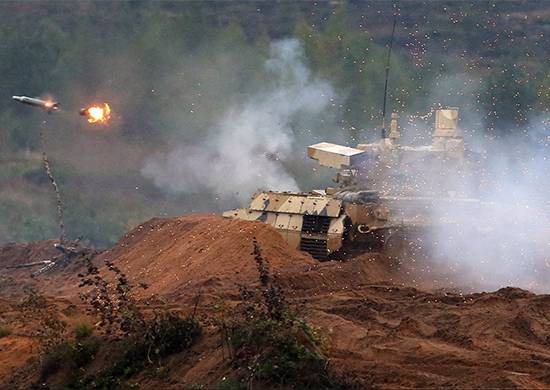 Recall that the contract for the supply of a batch of upgraded versions of the Terminator BMPT to the RF Armed Forces was concluded in 2017.
The basic weapons of BMPT: 2 x 30-mm cannons, PKTM machine gun, Attack anti-tank missiles, and AGS-17 Flame.
Prototypes BMPT "Terminator" previously successfully passed all the necessary tests. The information obtained in their course helped the designers to identify and correct the deficiencies in the equipment of the machines.