On the eve of the celebration of Defender of the Fatherland Day and the 100 anniversary of the Red Army, a monument to volunteers was opened in Lugansk. The solemn ceremony was held in the park to them. Young Guard. The installation of the monument was carried out by the League of veterans of local conflicts (the city of St. Petersburg).
It is reported that the monument is a figure of a man in combat ammunition with a gun on his chest. The child's figure hides behind the volunteer, while the volunteer makes a stopping gesture with his hand, according to the League of Veterans of Local Conflicts, which is a symbol of the fact that Russian volunteers in Ukraine defended the multinational Russian people and the Russian world.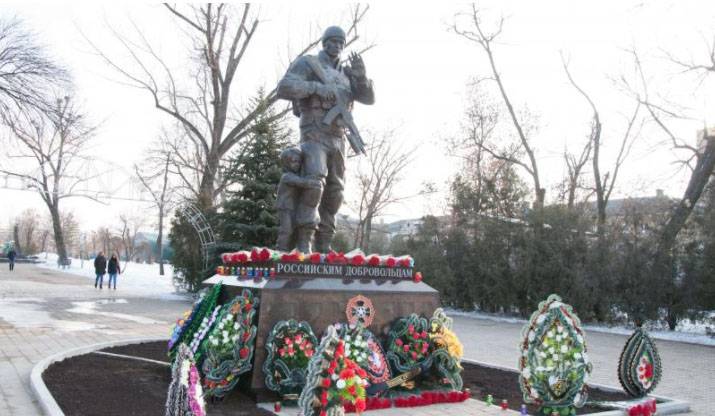 From the message
Leagues
:
The opening of the monument was timed to the Day of Defender of the Fatherland, in honor of those people who at the cost of their lives proved that the Russians do not flee from the battlefield and are ready to defend what they believe to the last. This monument will serve as a reminder that our Fatherland is common for Russians, Ukrainians, Cossacks, that they are all one people, ready to fight shoulder to shoulder.