The controversy surrounding army shoes did not begin yesterday, and for several years the Internet shook. The disputants shared on the whole into two antagonistic and opposing camps, which can be called "baggage handlers" and "handkerchiefs". The first ones came out for a tarpaulin boot and a footcloth relying on it, while the second ones came out for berets (or, alternatively, trekking boots) with socks relying on them.
The disputes between them, for example on the forum Guns.ru, were fierce and principled, but in some places vividly resembled the disputes between "blunt-tips" and "pointed-points" from the famous work of Jonathan Swift. Only "kirsa + footcloth" or only "berets + sock" without trying to find some objective criteria for choosing an army shoe, or finding some kind of compromise.
Although these disputes will hover over this article, and beyond any doubt, the comments will be full of "bag-makers" and "socks", nevertheless, I will try to solve this problem.
Clash of tradition
The first thing that struck me was the fact that, for the American army, laced shoes are as traditional as the boots for the Russian army. American infantry put on a high boot with lacing for the first time, at least during the war with Great Britain 1812. Subsequently, quite a few varieties of this army shoe appeared, but all of these models, such as: Jefferson Davis Boot during the Civil War, Trench Boot or Pershing Boot during the First World War, as well as models from the Second World War, like the famous Combat Service Boot - All of them were boots with lacing.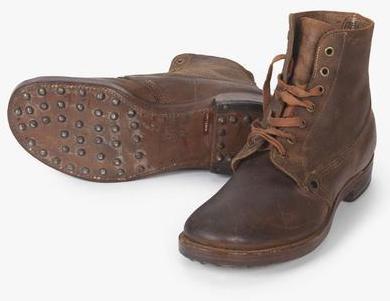 Trench Boot (trench boots) during the First World War on the feet of soldiers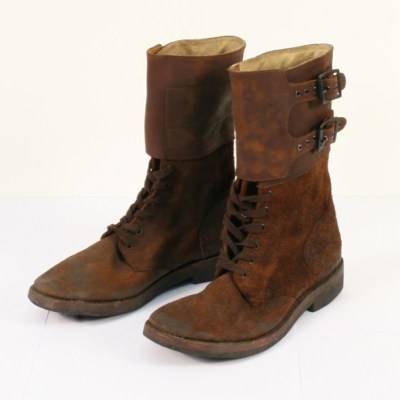 This is an advanced version of Combat Service Boot, which appeared by the end of World War II. As you can see, the difference with the "trench shoes" is not at all cardinal.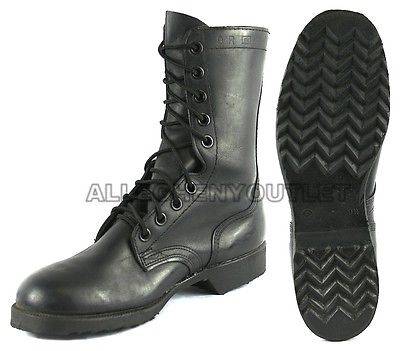 And here for comparison Combat Boot since the Vietnam War. The principal continuity is obvious.
It is enough to take a look at
history
American military shoes to understand that they hold on to their traditions very tenaciously, and the creation of berets is only one of the wonders of this traditional approach. Why is it so hard to say. Apparently, the Americans believe that the shoe with lacing is more convenient for them.
Such a long history of the American army boot, together with the extraordinary constructive similarity of even the earliest examples of it with modern warriors, allows us to consider the dispute between the "dressmakers" and "socks" in a new light. This is really a clash of two traditions, and not at all figuring out which shoes are better.
In favor of the American tradition, such factors as extensive military assistance that the United States in different years provided to a variety of countries worked, and among the supplied weapons and equipment were, of course, army boots. Because of this, and also because of the seizure of trophies, American boots have become familiar to most armies in the world, both allied and hostile to the United States.
Further, the United States won the Cold War, and remained at the end of the twentieth century the largest and strongest military power, which immediately gave rise to fashion for everything American. Many people innocently thought that it was necessary to imitate the Americans in everything, including in army shoes. Since it is very difficult to admit even to oneself that the whole thing is in fashion, imitating the winner, various mythology has gone into motion, still surrounding the berets and all the other numerous varieties of army boots with lacing. In Russia, this fascination with the American approach was still based on the desire to do "as in the whole civilized world."
The Soviet army, an essential attribute of which was the tarpaulin boot and footcloth, once great and powerful, collapsed with the collapse of the USSR and, in fact, was defeated without a fight. Of course, very few people want to imitate the vanquished.
So, the clash of traditions, reinforced by the US victory in the Cold War and the fashionable fashion for everything American. These shoe traditions are obviously rooted in national experience and psychology, so this factor must be taken into account in order to divert most of the emotional attacks in this shoe discussion. The position of those who zealously (and, I emphasize, without rational arguments) is protected by the berets, I assess so that they just want to be at least something on the strong side.
Some personal experience
In my personal experience, wearing different types of shoes were: kersey boots, chrome boots, and, of course, leather berets. I wore boots on a coatcloth and on a woolen sock.
My warmest memories are, oddly enough, about chrome boots. These were real, Soviet boots, inherited from grandfather, and released, judging by the factory stamp, back in 1974 year. They were excellent for a couple of seasons, despite their venerable age, but then they had to part with them - the sole rubbed off.
Lightweight, comfortable, not felt on the foot when walking or at work. Initially, they nailed to the foot, and I had to walk around for about a week with scuffs, but then everything returned to normal. The legs were always dry and in any weather, and even more so they could go into the water at least until the middle of the leg, without any fear of wetting the feet (I checked it specifically). In general, as long as it does not pour over the bootleg, the legs will be dry. The unbroken and worn-out boot is completely sealed.
For my taste, for a chrome boot, a footcloth and a woolen sock over a knitted sock are completely interchangeable and about the same in comfort. Socks, by the way, with a long walk also had to be corrected from time to time.
The only serious drawback of the classic model of chrome boots is the smooth sole that slides quite easily over wet ground, and you can slip even on heavily drenched grass.
Kirzy boot is considered worse than chrome, but I was left with a slightly different opinion from wearing it. Kirzach is another boot with its own characteristics. It is somewhat heavier than chrome (mainly due to a thicker sole, a more powerful heel, and much more rough skin that is applied to the vamp and heel), but at the same time it is much stronger and better protects the foot from impacts and possible injuries. For difficult rough terrain, as well as to work kirzach definitely better chrome boot.
Kirzy boots also protect well against water and, if they are not damaged, they are as tight as chrome ones. Only if chromic still significantly swells from water, then the swelling of the kersey is much weaker and almost imperceptible.
A kirz boot is worn quite comfortably both on a footcloth and on a woolen sock over a knitted one. But still, in my opinion, a thick footwoman for a kirzach is preferable, since this way the leg is better and more comfortable. Well, if a wool sock, then it should be taken thicker. By the way, I always wore boots, and then berets, on a woolen sock, even in the summer heat, and had no problems. Wool protects not only from cold, but also from overheating.
The drawback of a kirzach is, of course, but anecdotal: it's impossible to dance in squat, as in chromic ones. Well, he was not done for that.
Kirzach of the old model also had a smooth sole with some tendency to slip (in my opinion, less than that of chromium ones), but this disadvantage was eliminated by a rubber sole with a grouser in new models.
Bertsy. Nothing like that, you can wear. However, I did not notice any miraculous properties attributed to him. Fixing the ankle is no different from fixing in the boots, and in a kersey boot on a thick footcloth or on a thick woolen toe will, perhaps, be more reliable. Wearing comfort? I don't know, because I wore berets only on a woolen sock over a knitted one, so I didn't notice any differences with a boot.
On water resistance, any berets significantly lose their boots, simply because of the design features. Briefly they can go into the water about ankle-deep or a little higher without any problems. But with constant contact with water, the berets quickly swell and become wet inside. In addition, quite often the water begins to seep under the lacing and under the tongue. Here, a lot depends on the particular model, but if the tongue is not deaf, but the feet are soaked quickly.
The underbelly of the berets is lacing. The laces are quite quickly frayed and rotted, and the non-laced berets are extremely uncomfortable shoes.
That is, berets can be worn, but there are no distinct advantages over boots, rather, they are even slightly inferior. For example, compared to a kirzach, the protection of a foot against impacts or injuries is noticeably weaker.
Of course, that issues of origin and personal convenience are not at all decisive in the subject of army shoes. Here, of course, it is necessary to take into account many other factors, for example, military-economic ones (these include the relative simplicity of manufacturing shoes from non-deficient raw materials). This will be discussed in more detail in another part of this article.