Residents of Tyumen on social networks discuss posters that have appeared in elevators high-rise buildings. The local advertising agency AMD MEDIA GROUP decided to congratulate the defenders of the Fatherland on the holiday 23 February, pasting on the walls of the elevators a very peculiar greeting materials. Their peculiarity is that on the collage you can see the military equipment of the USA and Germany.
In particular, we are talking about German
tank
Leopard-2 and the American Bell UH-1 helicopter.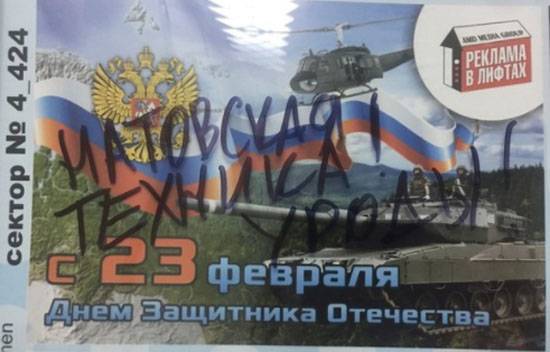 One of the Tyumen social network writes:
Congratulations in elevators already. Nicely. If it were not for the American helicopter and the German tank, it would be generally super.
To this, the user is answered that, apparently, congratulations should be interpreted as: "congratulations on trophy NATO military equipment".
This is not the first such incident. Earlier, on posters for May 9 in different cities, "creative designers" managed to write congratulations against the background of the images of soldiers and military equipment of the Hitler army. This indicates the level of competence of modern specialists in the field of advertising and poster graphics. Or is anti-advertising advertising too? ..