Under fire from insurgents killed nine civilians in Damascus and 49 injured. In Idlib and Aleppo, there are battles between the armed opposition and terrorist groups. Reports about it
FAN
with reference to Syrian sources.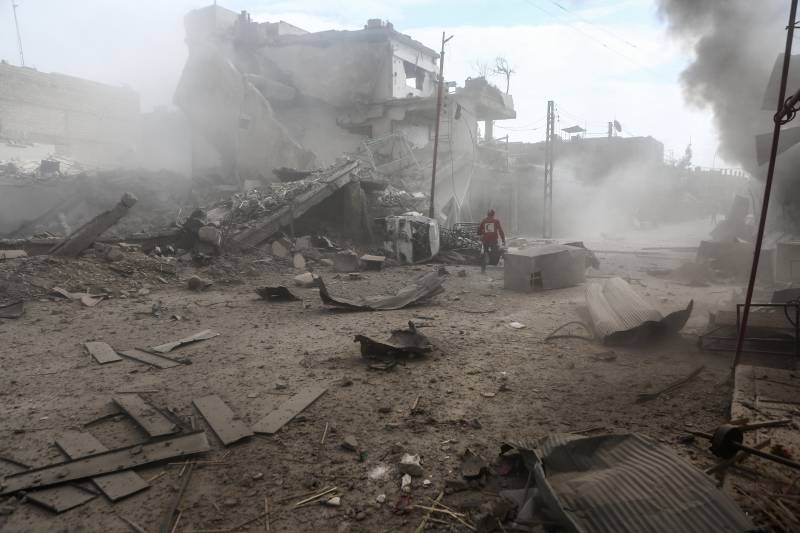 Eastern Guta, February 20 2018 year.
The radicals again launched mortar attacks on the Syrian capital. Al-Qassa, Az-Zablatani, Bab Tuma and Umayyad Squares were bombarded by militants. The attack of the armed opposition killed nine civilians in Damascus, including four children, and another 49 civilians were seriously injured. In the southeast of Damascus, the confrontation between the Syrian Arab Army (SAA) and illegal groups continued. SAR troops fired at strongholds of radicals in the areas of Jobar and Ain Tarma. Syrian in turn
aviation
struck at the fortified areas of the militants in the vicinity of the settlements of Beit Sava and Khosh al-Dawahira. The ringleaders of Jebhat al-Nusra (banned in the Russian Federation) called on their x supporters operating in other regions to avenge the Syrian army for the operation in Eastern Ghuta, including through terrorist attacks. At the same time, the SSA began to disseminate information about the imminent transfer to the region of reinforcements for militants, who are currently being trained at the US military base in At-Tanf.
In the west of the province of Aleppo, clashes between armed groups of the opposition and the terrorists of "al-Nusra" were recorded. attempts were made to attack the strongholds of supporters of the "en-Nusra" in Darat Izze, but failed. Later it was reported that the terrorists had driven out opposition units from their positions in the settlements of Itkad, Arkhab, Uveydzhil, Bshafatin, Al-Khut, Mzheniye and Kafrdil. In the north of the province of Aleppo continued clashes between pro-Turkish groups and democratic Syria forces (SDF). The Ankara-controlled Syrian Free Army (SSA) seized several settlements near the Kurdish units near Jandaris. At the end of the day it dropped several missiles in the Turkish city Kırıkhan fired from the territory of the Canton of Afrin.
On the territories of Deir-ez-Zor province captured by the Syrian Democratic Forces (SDF), clashes between Kurdish troops and ISIS terrorists continue (the group is banned in the Russian Federation). Fighting between the SDF and the IG was noted in the Hadjin area. Later in the same part of the region igilovtsy executed seven like-minded people for attempting to escape from the battlefield.
VKS RF attacked strongholds of terrorists, "al-Nusra" in the vicinity of the village Blier in the south of Idlib province. Also, the aircraft struck at the positions of the radicals in the area of ​​Jisr ash-Shugura. Fierce fighting between opposition groups and terrorists occurred in the city of Maaret al-Numan. Later, the town came under the control of opposition forces.
In the north of the province of Hama, the operation of UAR government forces against the terrorist coalition continued. Russian aviation, supporting the Syrian army, attacked al-Nusra strongholds in the vicinity of settlements of Al-Latamin, Kafr Zeta, Murek and Harb Nafs.