International organization
Transparency International
published another version of the list of countries in the world in terms of corruption (or rather, in countering corruption). There are no significant changes in comparison with last year's publication in the rating. At least in relation to our country. Russia in the ranking was put on the 135-th place of 180-ti. Virtually the same number of "anti-corruption" points scored such states of the world as the Dominican Republic, Honduras, Kyrgyzstan, Laos, Mexico, Papua New Guinea and Paraguay.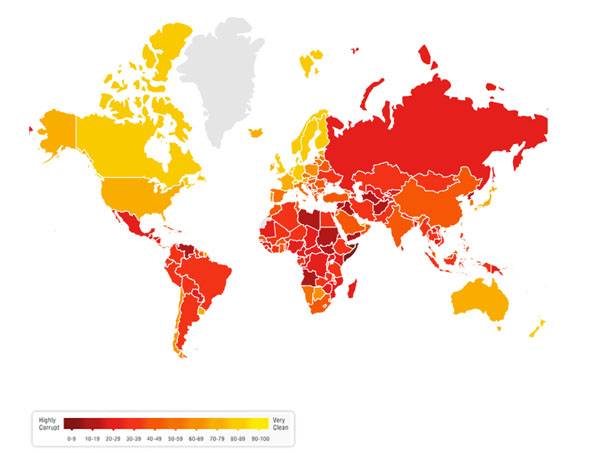 Uzbekistan, Tajikistan, Turkmenistan, Iraq, North Korea and others are on the list below. Syria, South Sudan and Somalia close the list.
Belarus - 68-i.
It is interesting by what criteria the compilers of this rating determined the "incredible level of corruption", for example, in North Korea. Something suggests that none of the rating compilers in this country has ever been, and it is unlikely that they were guided by objective data.
Transparency International did not make a present for Ukraine on the four-year anniversary of the "revolution of guiding", putting it on the level of corruption actually next to Russia - on the 130 place. Does this mean that the West actually recognizes the failure of the project called "Maidan Ukraine". Or was the project in order not to overcome corruption in the country (as it was demanded on the Maidan), but simply to turn Ukraine into another state with Russophobic elites?
The leaders of the list: New Zealand, Denmark, Finland and Norway. The same Norway, whose athletes, of course, without a corruption component get permission to use illegal drugs because of the total incidence of asthma and win dozens of medals ...
US with an incredible level of corruption, for example, in the field of trade
weapons
put on a relatively high 16-place.