While the Western talker about the need to assist Ukraine and the settlement of the conflict in the Donbas continues, Russia is implementing a program of providing humanitarian aid to the affected areas of Donbas. Another humanitarian aid was sent from the Russian Federation to LDNR. This is already the 74 column.
Press service of the Ministry of Emergency Situations
reports that there is a single humanitarian column on Russian territory, then (after crossing the border), it is routinely divided into two parts. One will go to Donetsk, the other - to Lugansk.
The report emphasizes that the contents of the truck will be carefully checked, not only Russian but also Ukrainian customs.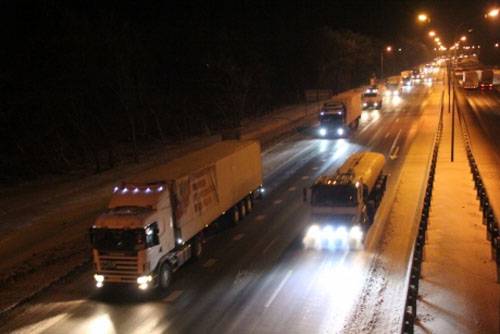 From the material:
At the border checkpoints, cars will be tested by Russian and Ukrainian representatives of customs and border services in accordance with international legislation on the delivery of humanitarian goods. The column consists of more than 40 units of equipment that will deliver more than 430 tons of humanitarian aid to residents of Donbass.
It is reported that among the goods - medical supplies and equipment, children's food kits, hygiene products, building materials. Specialists from the Ministry of Emergency Situations and various public and political organizations took part in the formation of cargo convoys.