Western publications have found a new option for presenting the situation in the Eastern Guta suburb of Damascus, from where the militants constantly bombarded residential areas of the Syrian capital and the territory of the Russian Embassy. When it came to shelling by militants, in the Western media they preferred not to view the situation as an informational occasion. As soon as the Syrian government army gave the militants an answer, the hysterics began.
So, the British edition
Guardian
publishes material, illustrated photo of the Dzhebhat an-Nusra affiliated with terrorists (* banned in the Russian Federation) of the White Helmets pseudo-legal protection structure. The material has a loud name "Eastern Guta - this is a new Srebrenica today."
From the British media:
This is not a war. This is a massacre: dozens killed in the Syrian Eastern Ghouta.

Like the Bosnian Muslim enclave in 1995, East Guta on the outskirts of Damascus was besieged by regime forces in the early stages of the war. The years of the siege could not dislodge the rebel groups that control it. Last year under unsuccessful Moscow peace process in Astana, the Russians declared eastern Guta a "de-escalation zone".

But to no avail. As in Bosnia, no one tried to protect the civilian population when the regime's offensive there began in December after negotiations failed. The air strikes and bombardments, which now inflict terrible damage, are carried out with impunity by the Syrian forces and their Russian supporters.

The UN asked the pro-Assad coalition, which includes Iranian military leaders, to agree to an immediate humanitarian cease-fire. Her calls were ignored. The requests of representatives of the institutions of mercy also remained unanswered.
Question: where was the British Guardian newspaper when the American-British coalition ironed Raqqah (Syria) and Mosul (Iraq) with carpet bombings? Why not published comparisons, for example, with Dresden-1945? There is a selective approach of the "most honest media in the world" to the situation in Syria. Here we see, we do not notice here ...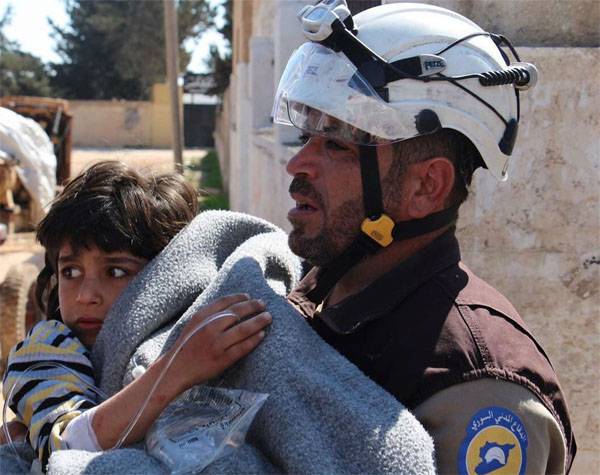 Moreover, why the Guardian does not ask questions about why the militants have chosen the densely populated suburb of Damascus for their activities, why they have not yet laid down
weapon
and did not go to a peaceful life? Isn't it so that the Western media would then trumpet in one voice about the "atrocities of Assad against the civilian population"?