An explosion was reported in a bus carrying Sri Lankan military personnel. It is reported that a total of 19 people were injured in the explosion, 12 of whom were military. Seven people are in serious condition.
The command of the military unit, whose personnel includes wounded soldiers, reports that the explosion could have been caused by a bomb. Initially, it was reported that damage to the bus as a result of the explosion suggests that a grenade from one of the servicemen might well have exploded. Does this mean that the soldiers in the bus were transporting ammunition?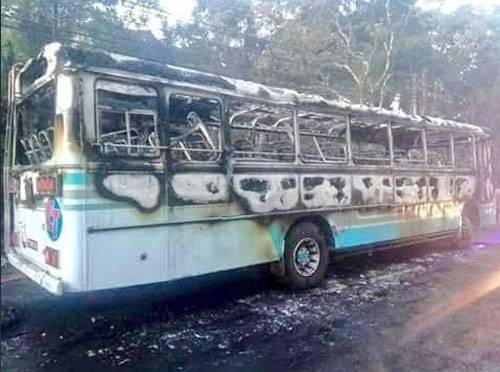 Now it is noted that traces of the impact of "third-party explosive devices" were found on the vehicle body.
It is known that the bus transported military personnel to one of the training centers of the city of Diyatalava, where they were to take part in combat training.
In the command of the Sri Lankan Armed Forces, they say that an undermining of the bus with the military might be an "echo of war" with the grouping "Tigers of Tamil Eelam Liberation". This is the group with which Sri Lankan government forces fought before the 2009 year. Representatives of the group advocated the creation of an independent state of Tamil-Ilam in the north of the island. Today, the Tigers of Tamil Ilam Liberation Organization has been recognized as a terrorist organization in more than 30 countries of the world. Officially, the group announced the dissolution of 9 years ago.
At the headquarters of the Armed Forces of Sri Lanka, it is reported that an investigation into the incident with the explosion of the bus, which (the investigation) involved local police.