At the Brazilian shipyard, they started docking the hull sections of the non-nuclear S 40 Riachuelo type Scorpene, designed by the French shipbuilding association Naval Group, reports
bmpd
with reference to the publication Les Echos.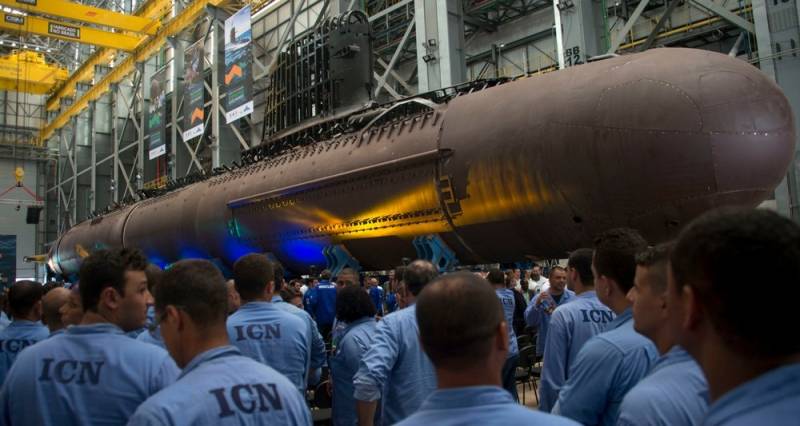 Hull sections of the Brazilian head non-nuclear submarine S 40 Riachuelo of the Scorpene type before the start of docking in the workshop-final slip of the final assembly at the Itaguai Construçoes Navais Brazilian shipyard of Itaguai Construçoes Navais (ICN) in the Gulf of Sepétiba.
The first section was built in France, and the other two in the Brazilian shipyard submarine Itaguai Construçoes Navais (ICN).
Brazilian President Michel Temer, who was present at the start of the docking, noted that the S 40 is the first step towards the construction of a nuclear submarine in the country.
The publication recalled that the program for the construction of submarines PROSB is the subject of national pride of Brazilians.
Construction is tightly controlled by the Naval Group. All three sections of the head of the boat were carefully inspected by representatives of the Ituagua Constructoes Navais (ICN) company, in which 41% is owned by the Naval Group, and 59% by the Brazilian construction corporation Oderbrecht.
Bmpd help: "building for brazilian
fleet
Four SBR non-nuclear submarines of the enlarged modified Scorpene type under the Programa de Desenvolvimento de Submarinos (PROSUB) program are being carried out in accordance with the agreement concluded on September 3, 2009, with the Brazilian Ministry of Defense and the French shipbuilding association DCNS (now Naval Goup). To implement this agreement, a new special submarine shipyard, Itaguai Construçoes Navais (ICN), was built in Brazil in Sepetiba. "