President of Ukraine Petro Poroshenko made another statement in which he said that "Ukraine will liberate all its territories." Taking into account the fact that Ukraine lately really "liberates territories" - for example, from able-bodied citizens who are forced to look for work abroad - Poroshenko's words sounded ambiguous.
Poroshenko
at the presentation of the project of the memorial of the so-called "heavenly hundred" in Kiev:
Four years have passed since the tragic events of 18-20 in February of 2014, when Ukraine lost 107 of its best sons and daughters - the heroes of the "heavenly hundreds" who gave their lives to stop the chaos, to win. Win in the fight for Ukraine. It was hard to imagine when these actions began, what power would come to and what criminal orders would be given in order for the "Berkut" to open fire on the guys without
weapons
who wanted only one thing - to live in a normal country that would move, or rather, return to the family of European nations.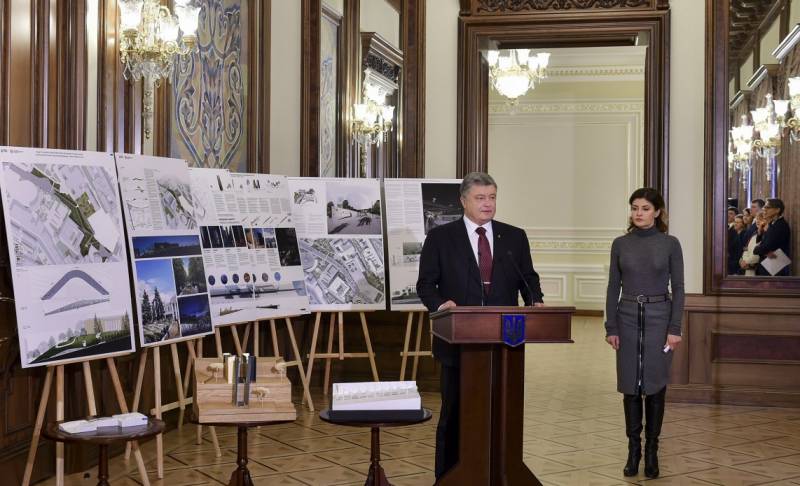 Poroshenko further stated that over the past 4 of the year in Ukraine "a lot has been done." At the same time, Poroshenko did not specify how many "celestial hundreds" actually appeared because of the civil war, which Kiev actively supports at the direction of "senior colleagues" from across the ocean. According to Poroshenko, Ukraine has lost 2348 soldiers and 7000 civilians. And how many left Ukraine because of the madness of the Maidan authorities, how many were not born because Ukraine prefers social protection to a hackneyed record that everyone except her leadership is to blame for the country's troubles?
Poroshenko:
With this memorial, with this museum, we must finally move away from the Soviet Union, from Soviet traditions.
Today, before the memory of the Heroes of the Heavenly Hundreds, we promise that Ukraine will be united and united Ukraine will liberate every shred of Ukrainian land both in the East and in the Crimea.
This is at least an 4 statement of a similar nature from Poroshenko, because he distributed similar promises on three previous anniversaries of madness on the Maidan.