Petro Poroshenko said at the Munich Security Conference that Russia did not come to the Crimea to protect the rights of people - "they are violated wherever Russia is present," according to a press release on
Online
the Ukrainian president.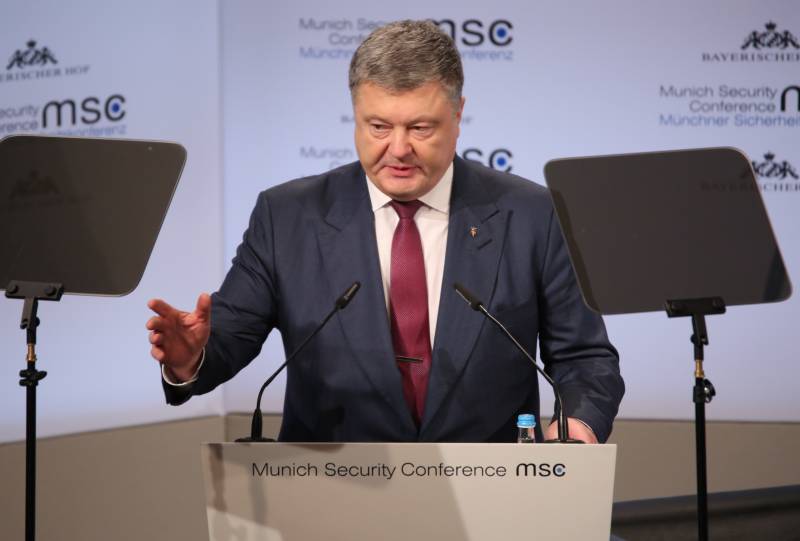 According to Poroshenko, Moscow is also not interested in returning Donbass to Kiev - "that territory was subjected to a military attack by the Kremlin in order to weaken and destabilize Ukraine".
However, Ukraine is not the goal of Russia. Russia has a different goal. Its goal is to satisfy the Kremlin's ambitions and revenge for the "greatest catastrophe of the twentieth century," as Putin described the breakup of the Soviet Union. The collapse of the "Russian world", built on lies and violence,
declared the president.
He recalled the "little green men" in the Crimea: after the first ridiculous objections, the Kremlin admitted.
It is not surprising that the same people are traced this time, for example, in Syria, apparently with their previous combat experience in the Donbas and Crimea. I am not the one who believes the denials of Moscow, that, as they say, "they are not there." I am the one who warns of the absence of borders with the Kremlin in its hidden agenda,
said Poroshenko.
That is why I urge you: in our common interest to resist Russia's attempts to break our unity and destroy our democracies. Prove that blackmail and aggression is over in Europe. That Europe is a continent of peace, stability and cooperation. And that universal values ​​should respect everything
he continued.
Ukrainian leader noted that these values ​​are the best
weapons
against the Russian threat.
So, is the current situation with Russia different? Our answer should be no. "No" - recognition of the Russian presidential elections in the occupied Crimea. "No" - restoration of the powers of Russia in the Parliamentary Assembly of the Council of Europe. "No" - pacifying visits to Moscow in search of economic benefits for your own preferences. "No" - "Nord Stream-2", which has nothing to do with economic interests, but is a political and energy expansion of Russia. Neither politics nor business can exist separately from values
he declared.