Nevskoye design bureau has prepared a project for the modernization of large landing ships of the type "Ivan Gren".
If
fleet
if there is a desire, we are ready to provide a modernized design of this ship with improved habitability and seaworthiness
- Sergey Vlasov, the general director of Nevsky PKB, said in an interview with TASS.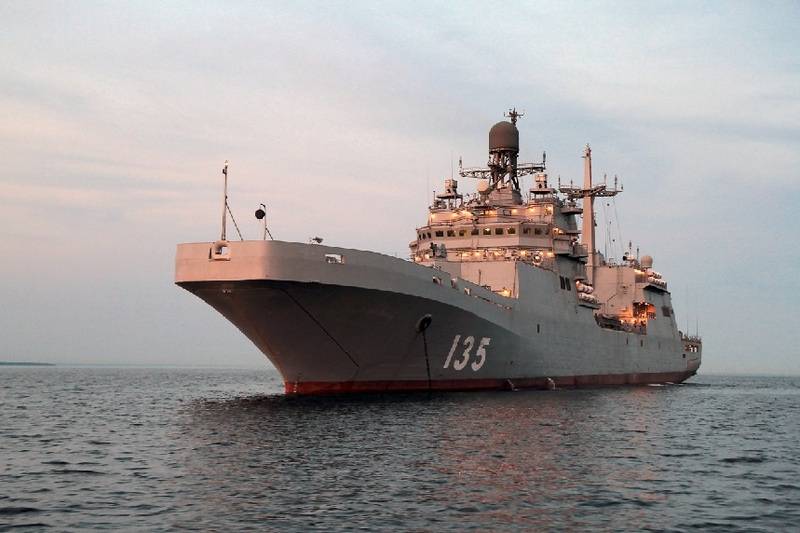 This ship is really a very difficult fate, but we still bring it to mind. Initially, a technical assignment was issued to a ship that would go on inland waterways, rivers and canals. Accordingly, the task was laid its width, height and draft. Then the BDK had to be reworked in a naval ship: it was necessary to change the height of the superstructure and make some changes to the project. They became the cause of today's problems. There was no time to re-do the project, I had to bring to mind what was. The result is obvious
- added Vlasov.
"Ivan Gren" - the lead ship of the project 11711, developed in PJSC "Nevskoye Design Bureau". It was laid on Yantar PSZ in December 2004 of the year, launched in May 2012 of the year. Factory running trials began in June 2016 of the year. 30 November 2017, the large landing ship Ivan Gren, sailed to the Baltic Sea, where it began carrying out a state testing program. They were suspended at the end of December 2017.
The ship holds 13 main
tanks
, 36 armored personnel carriers or infantry fighting vehicles or 300 paratroopers. It is possible to deliver to the destination a reinforced company of marine corps with standard equipment and land them on pontoons brought with them. The armament of the ship consists of six-barreled automatic guns with a caliber of 30 millimeters, two transport and combat helicopters Ka-29 are based in deck hangars.