Departmental newspaper
"A red star"
shares with readers information that for the first time marine pilots
aviation
Naval
fleet
Russia carried out refueling in the air on Su-30SM fighters.
It is reported that Su-30CM fighters and Su-24M bombers took off from Yeysk airfield. They were piloted by pilots of the Baltic and Black Sea fleets. The material stated that more than "100 had been in contact with the aircraft Il-78".
A total of over 40 takeoffs and landings.
To work out the process of refueling in the air, airplanes to Yeisk (a complex of trainings for deck aviation NITKA is located) carried out flights from the Kaliningrad region and from the Crimea.
Photos of the Ministry of Defense of the Russian Federation: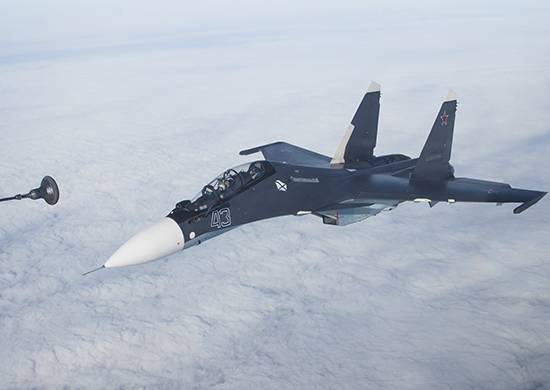 Comment of the Department of Information and Mass Communications of the Ministry of Defense of the Russian Federation:
Refueling in the air is the most difficult type of flight training, it requires high professional skills, psychological stability and confidence in successful flight performance from the flight personnel. The complexity of the task is that at a height from 2000 to 8000 meters, you must meet with the tanker IL-78, at a speed of 500-550 km / h to make contacting, and during refueling, the aircraft of the Navy and the tanker must withstand a build at a distance of about 20 meters