Members of the neo-Nazi group "Organization of Ukrainian Nationalists" (OUN, banned in the Russian Federation) threw stones and eggs at the building of Rossotrudnichestvo in Kiev on Podol, reports
RIA News
.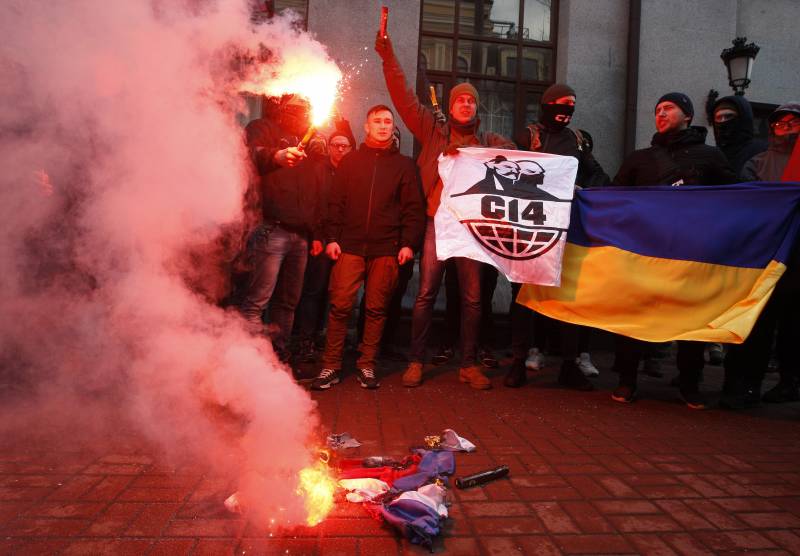 "Several dozens of radicals came to the Rossotrudnichestvo building and threw stones and eggs at it, doused the windows with paint," the agency reports from the scene.
The reinforced police squad on duty near the building did not intervene.
On the way to the Rossotrudnichestvo building, the nationalists broke windows in the branch of the Ukrainian subsidiary of Sberbank.
In addition, the radicals attempted to crush the Alfa-Bank office on Khreshchatyk, but here their special forces were still hampered by their intentions.
After that, a crowd of nationalists gathered on Sagaydachnogo Street not far from the office of Sberbank and the Russian Center for Science and Culture (RCSC). Their leader called for "everyone to stick together to prevent arrests."
From the RCSC, the mobs again went to Khreshchatyk.
Earlier, on Saturday, the nationalists broke into the Rossotrudnichestvo building. According to the head of the RCSC, Konstantin Vorobyov, the radicals caused the organization considerable material damage.