The state procurement website contains a note that talks about the development of a new unmanned aerial vehicle in the design bureau of the Russian Helicopters holding company. KB "BP-Technologies" conducted a comprehensive study and even determined the appearance of the new UAV-helicopter. Flight prototype will be created at the Rostov enterprise Rostvertol.
This is a helicopter-type unmanned aerial vehicle having a mass of about 300 kg. In this case, it is reported that this UAV will be able to carry a payload weighing up to 70 kg.
It is noted that until the middle of this year, designers of BP-Technology will conduct experimental studies of the engine of a promising helicopter-UAV "on the ground." It is also planned to study the work of the transmission and the carrier system. The complex of research and creation of a new unmanned aerial vehicle is denoted by the codename "Toros".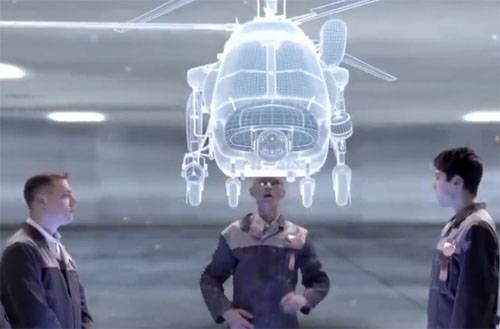 The submission says that the flight tests of the UAV will be completed by the end of January 2019.
Indicated and the total cost of the work. It is about 395 million rubles.
What do designers expect from a new car? - Flight duration up to 6 hours, radius - at least 150 km, maximum flight speed - about 180 km / h. At the same time stated that the drone must be all-weather and able to operate both over the plain and over rough terrain.