American edition
The Hill
quite original comments on the next shooting in one of the American schools. Recall that we are talking about the shooting of 17 students in the school of American Parkland (Florida) by a young man who, after his arrest, said that he was ordered to kill with internal voices.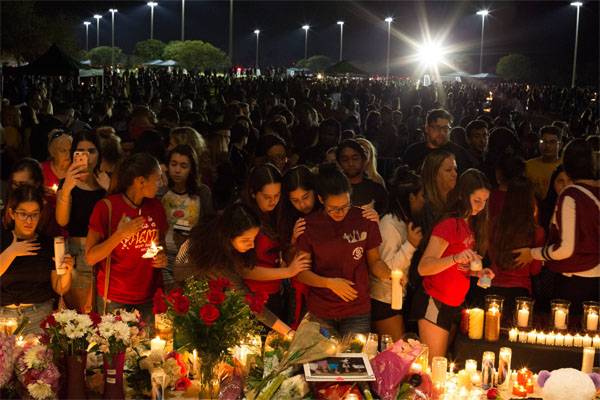 The material of the publication surprisingly decided to go on the Russian track. And in this case, the "Russian trace" refers to publications in the Russian media and social networks. The authors of the material at The Hill stated that in Russia they "excessively actively" discuss the topic of the shooting at the Parkland school, and this, you see, is already "interference in internal affairs." Moreover, the American information portal "detects" the activity of the so-called Russian bots, which allegedly on behalf of the Americans spread throughout the United States statements about the need to stop the free circulation of small
weapons
in the country.
The fact that, without any "bots" in the United States themselves today, more than a third of citizens are in favor of the need to tighten control over arms trafficking in the country, some American media have decided to pervert, writing a new horror story about "Russian interference". It is quite clear that such statements are beneficial to American arms dealers in the domestic market, because in case of tightening control over its turnover, they will lose huge profits.