The American destroyer Ross (DDG-71) of the Arly Burke type entered the Black Sea, past the Bosphorus. This is another American warship that has entered the Black Sea area as part of the so-called rotation program of "supporting allies." It is expected that he can go to the ports of Ukraine, Bulgaria and Romania.
USS Ross is known, for example, by the fact that in April last year it struck Tomahawk cruise missiles at the Syrai Air Base Shairat.
Then, as stated in the Ministry of Defense of Syria, most cruise missiles did not reach the goal, and after causing some damage to the air base, it was restored by the Syrian military. Recall that Washington explained the blow as an answer to the alleged use of chemical bombs
aviation
Syrian Air Force taking off from Shairat airfield.
The American destroyer Ross is equipped with two Aegis launchers, an 127 mm AU Mark 45 artillery mount, and two Phalanx 20-mm anti-aircraft guns (mm). It has anti-submarine armament (RUM-139 ASROC), as well as a mine and torpedo - 2 * 3 324 mm TA Mk. 32 (torpedoes Mk.46 and Mk.50). It can carry a ship helicopter on board.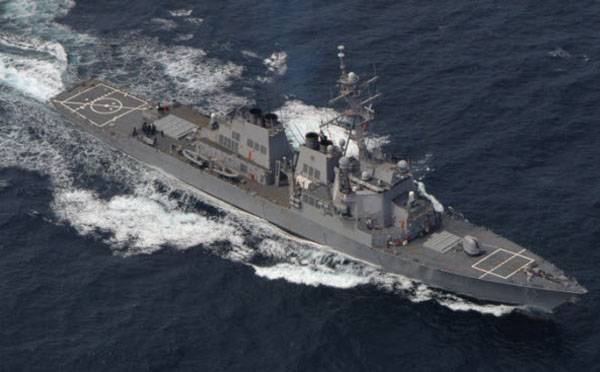 In the Black Sea, the American destroyer Ross replaced another NATO ship, the missile destroyer Duncan, which had been in the Black Sea for more than two weeks.