President of Ukraine Petro Poroshenko - the one who not so long ago called the Kremlin and asked for talks with the Russian president - during a speech at the Munich Conference, commented on the participation of the Russian team at the Olympics in Pyeongchang without a flag. According to Poroshenko, the Russian flag does not fly at the Games in South Korea, "and should not fly anywhere in the world."
From the statement of the Ukrainian president:
Neither politics nor business can exist separately from values. There is no place for fair play in today's Moscow politics. That is why the Russian flag does not fly at the 2018 Winter Olympics of the year. The Russian flag should not fly anywhere, as long as Russia continues to instigate a world-wide hybrid war.
The Russian theme has become a major one for Poroshenko when meeting in Germany with UN Secretary General António Guterres.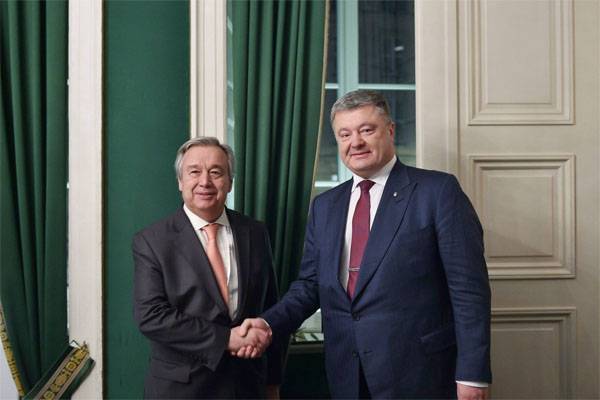 Poroshenko once again remembered the "Russian aggression":
The main topic of conversation was the question of the prospects for the deployment of the UN peacekeeping mission in the Donbas. They agreed that the main task of the future UN mission should be to ensure a complete peaceful settlement of the situation in Donbass and restore the sovereignty and territorial integrity of Ukraine within internationally recognized borders, and not freeze the conflict and secure the stasus quo.
Poroshenko added:
He also noted the need for the international community to take additional measures to make Russia comply with the resolutions of the UN General Assembly 71 / 205 and 72 / 190.
.
And when does Peter Alekseevich himself intend to begin the implementation of at least the first paragraph of the Minsk agreements?