The Kiev city council at a session on Friday allowed the red-black flag of the "Organization of Ukrainian Nationalists - Ukrainian Insurgent Army" (OUN-UPA) * to be posted on separate holidays, the city council website reports.
Earlier, representatives of the nationalist party "Svoboda" registered in the Kyiv City Council and other local authorities decisions on the use of the red-black flag of the OUN-UPA, along with the state one.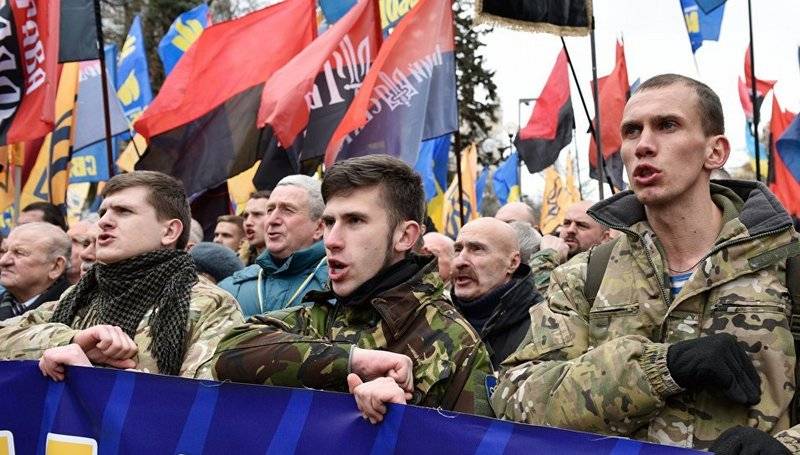 According to the draft decision, at the Kiev City Council building, as well as near the premises of regional state administrations, they will raise the revolutionary flag of the OUN *, the press service noted. Kyiv City Council has determined 13 dates, according to which it will recommend to heads of enterprises, institutions and organizations, regardless of their form of ownership, to hang out the flag of nationalists.
I want to note that this list of dates is not exhaustive. That is, the revolutionary flag of the OUN * can also be posted on other days.
- quotes the press service of the co-author of the relevant draft decision, city council member Vladimir Bokhnyak.
On the eve of Lviv and Ivano-Frankivsk city councils were allowed to use, along with the state, the red and black flag in the days of some memorable dates.
President Petro Poroshenko in May 2015 of the year gave the OUN-UPA * the status of "fighters for independence" of Ukraine, and its participants - the right to social security. Moscow condemned this decision, noting that "Ukraine is the country where neo-Nazis moved from words to deeds and killed thousands of civilians" and that "such actions should be given an adequate assessment at the international level," RIA reports.
News
* "Ukrainian Insurgent Army" (UPA) is a Ukrainian organization recognized as extremist and banned in Russia